Safety Data Sheets
Technical Data Sheets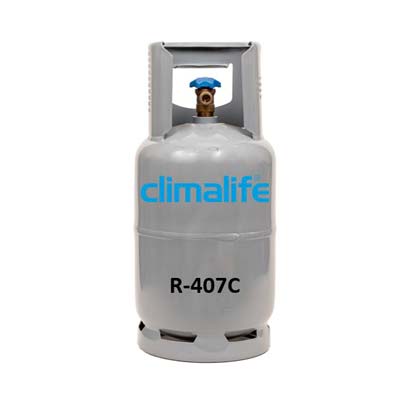 R407C
R407C is a blend of non-ozone depleting HFC refrigerants (R32, R125 and R134a). It has similar properties and characteristics to R22 and is used across a wide variety of air conditioning applications.
It is widely used for splits, VRF and direct expansion water chillers. As R407C is a blend it should always be removed from the cylinder as a liquid when charging the system.
R407C is not compatible with mineral oil, and equipment manufacturers recommend Polyol Ester (POE) oil - see our Lubricants section for more information.

R407C can be used to retrofit some existing R22 air conditioning systems, however, it will be necessary to carry out a number of oil flushes when changing to a POE oil.

| | |
| --- | --- |
| APPLICATIONS: | Air conditioning / Water chillers |
| ASHRAE CLASS: | A1 |
| OIL REQUIRED: | POE |
| GWP: | 1774 |