F Gas Solutions - The FREE mobile app for everyone!
Climalife UK

Climalife are pleased to announce the launch of F-Gas Solutions.
F-Gas Solutions is a COMPLETELY FREE smartphone app that offers professionals in the fields of refrigeration, air conditioning, heating and renewable energy, simple and user-friendly assistance in dealing with new European regulation 517/2014 or "F-Gas II" that comes into force on 1 January 2015.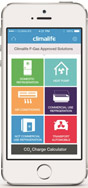 READ FULL STORY