Webinar | Low GWP Refrigerants... how do we move forward?
Climalife UK

Climalife is pleased to announce a new webinar taking place at 9am on Wednesday 6th October 2021.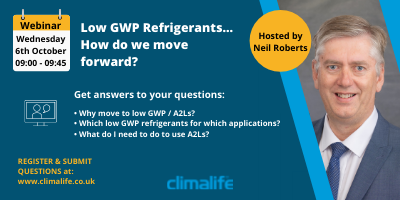 Senior Technical Sales Manager, Neil Roberts is keen to tackle your questions around why it's so important to move to low GWP refrigerants, which low GWP refrigerants are suitable for which applications and why is there a need to use A2Ls and any other questions you might have.
There's a great opportunity to set the agenda as Climalife is encouraging questions when registering to attend and as many as possible will be addressed on the day and if not, followed up afterwards.
The webinar is free to attend, and spaces are limited so please register quickly.