Is your refrigerant strategy fit for purpose?
Climalife UK

Neil Roberts discusses...
The retrofit solution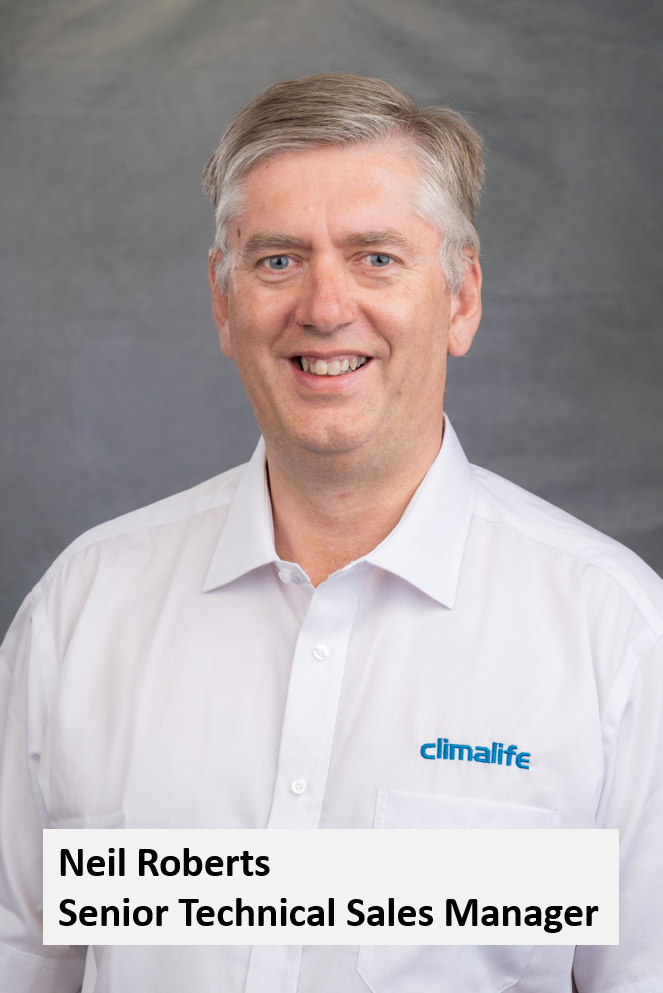 Love them or hate them, the 'retrofit solution' has made the various transitions the industry has been going through for the last 30 years, a much easier and less costly experience than would have otherwise been the case.
But as we navigate the latest round of legislation, has the 'retrofit solution' finally ran out of steam and come to the end of the road and should we still be retrofitting?
It's very important to say from the outset that retrofitting from higher GWP refrigerants to lower GWP refrigerants is a very important tool for refrigerant management and strategy. In many cases, maintaining equipment so it can fulfil its intended lifespan is an economic necessity, and therefore using a suitable retrofit solution is often a desirable route as the F-Gas phasedown schedule progresses.
Choosing the best retrofit option can sometimes be difficult, as there may be multiple choices which are often not a perfect match for the product being replaced, requiring adjustments to expansion valves, pressure controllers and any other devices affected by changes in the refrigerant pressure temperature relationship. Assistance in choosing the best option for a particular application is readily available from the team at Climalife, using our extensive experience and performance analysis tools. In general, the product with the lowest global warming potential (GWP) should be chosen, provided it is suitable for the application in hand.
To those outside of the refrigerant supply chain, it's understandable that talk of carbon dioxide tonnes equivalents (CO2Te) and average GWPs can seem a little meaningless and not particularly relevant. The GWP of a refrigerant is the same as its' CO2Te value. Probably the easiest way to envisage what this means to the end user, and how it will affect the availability, is to think of a CO2Te as a unit of currency. Taking this approach makes it very clear that the lower the GWP of the refrigerant, the more of it is available for the same number of CO2Te.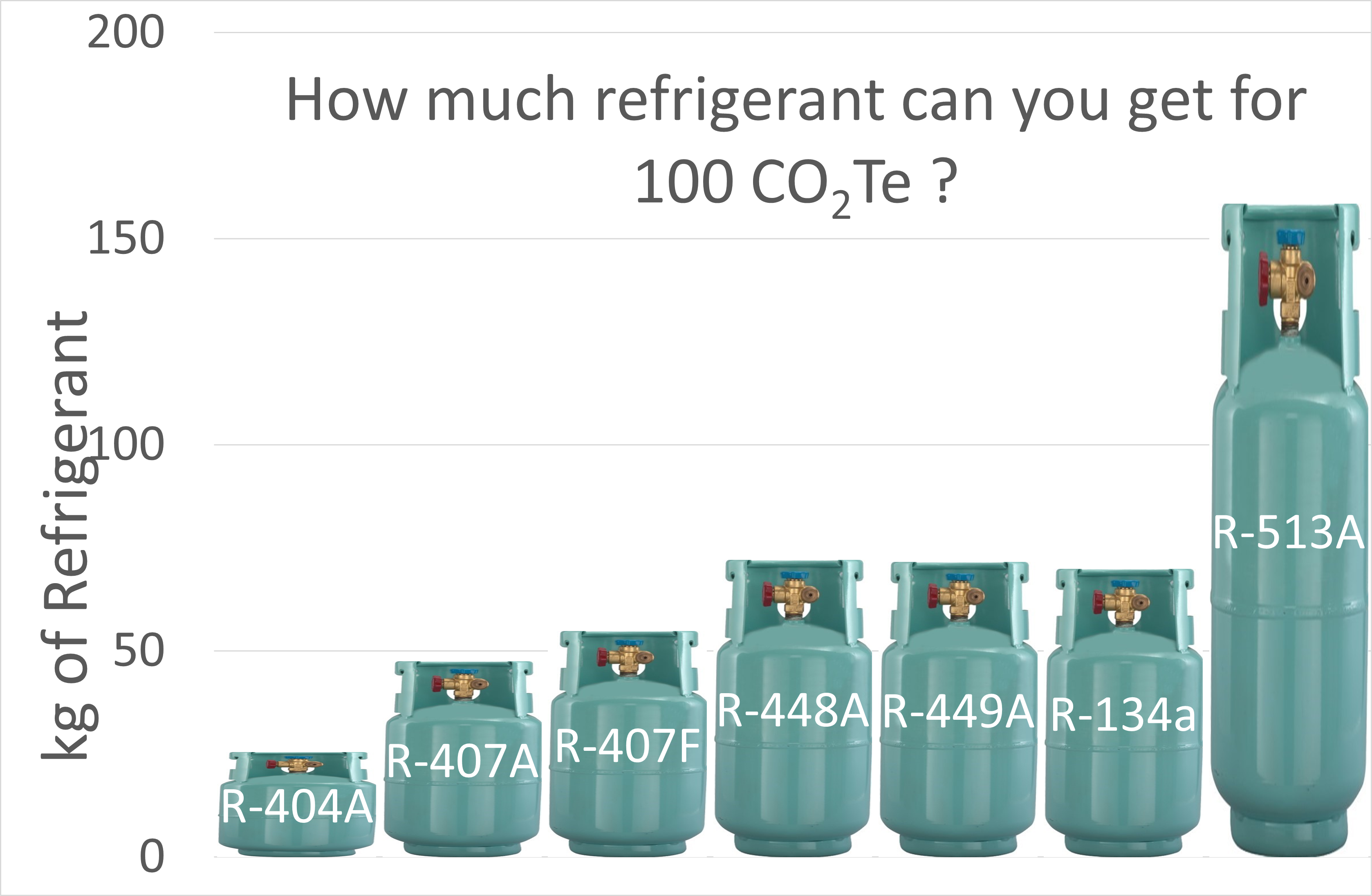 Figure 1 - 100 CO2 tonnes equivalent expressed as kg of refrigerant.
Retrofitting from the very high GWP R‑404A or R-507A to a lower GWP solution is a very obvious decision to make, but even retrofitting lower GWP refrigerants, such as R-134a, should be considered where considerably lower GWP retrofit options exist e.g. R-513A to retrofit from R‑134a, and sooner rather than later.
As the phasedown progresses, this is critical to ensure there is enough refrigerant to continue to service the industry, but it's not the only reason to consider retrofitting.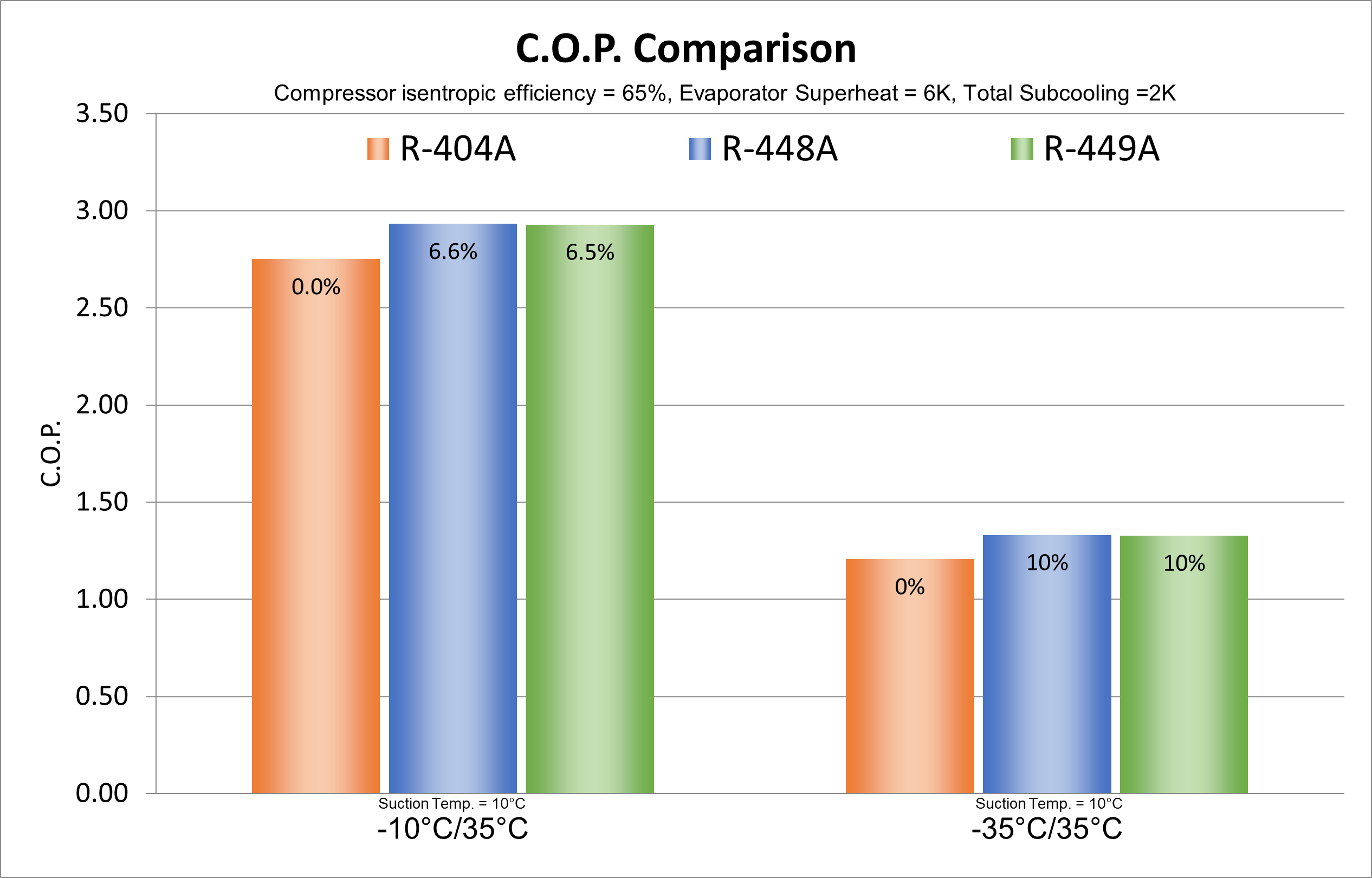 Figure 2 - C.O.P. Comparison of R-404A retrofit options.
In many cases the retrofit solutions available have a better energy efficiency than the product they are replacing. This offers an eco-efficient alternative which not only reduces the potential for environmental impact if any leakage occurs, it also lowers the environmental impact from the much more significant indirect emissions produced from the power consumption and potentially reduces the operating costs of the system through lower energy usage.
Table 1 - Lower GWP refrigerants suitable as retrofit options.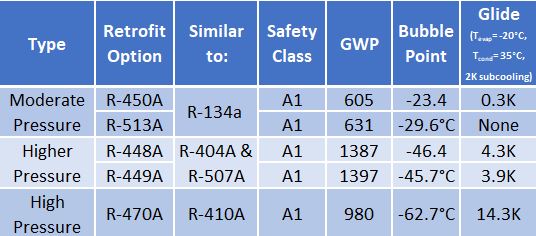 Are there any very low GWP retrofit options?
Although there are lower GWP refrigerants available, most of these will not be suitable as retrofit refrigerants. In the majority of cases either the refrigerant properties, performance or the refrigerant safety classification will prevent their use as a retrofit option.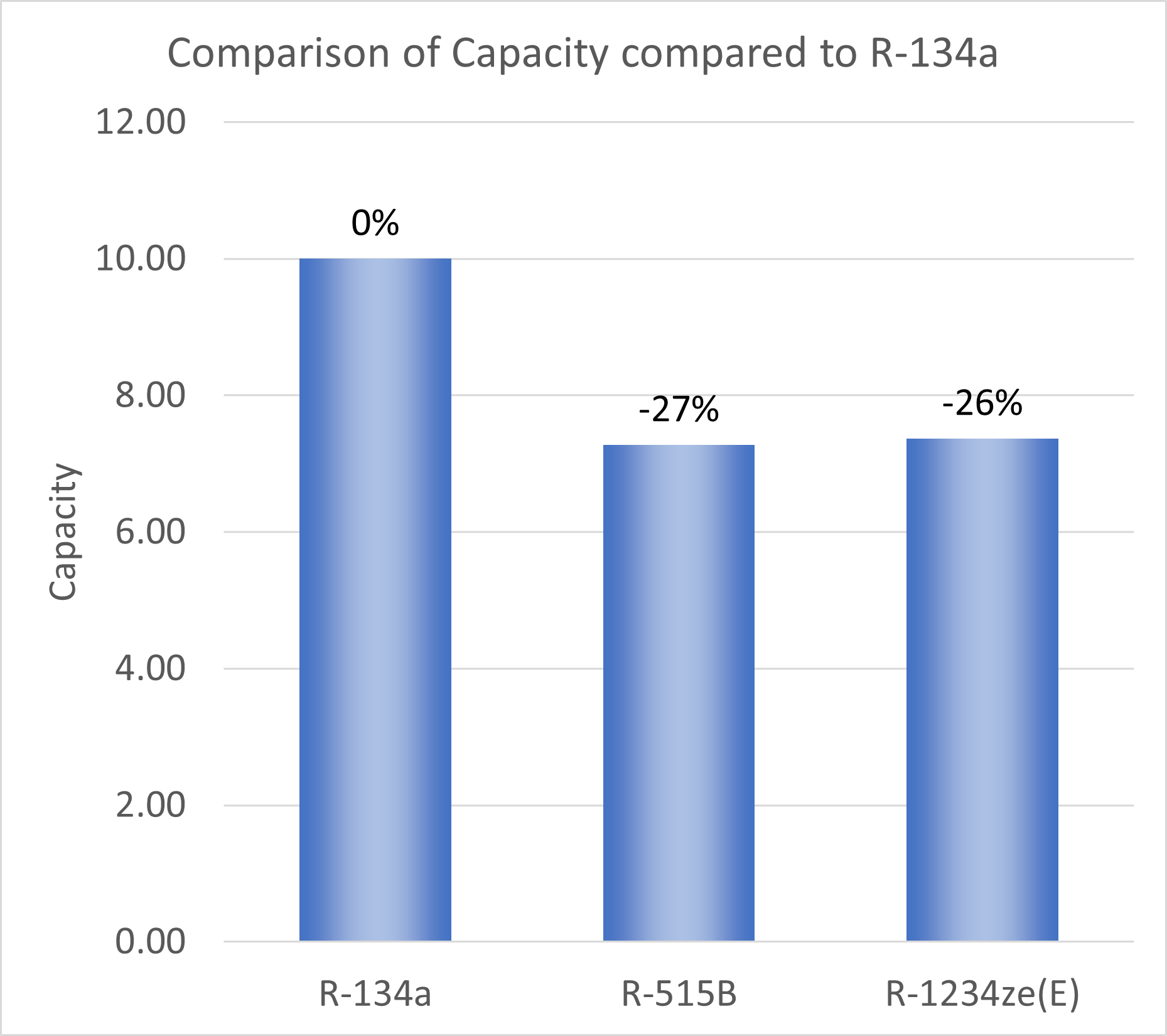 Figure 3 - Performance comparison of R-134a, R-515B and R‑1234ze.
For example, as potential very low GWP replacements for R-134a, one could consider R-515B (GWP = 293), R-1234ze (GWP=7) and the recently announced R-471A (GWP=148), but in a retrofit situation where the compressor is not changed, the cooling capacity would be expected to be 26% or lower than for R-134a (figure 2), which in most cases will be too big a loss to be considered as a viable option.
Although the capacity of R-515B may in most cases be too low as a R-134a replacement, it could be considered as a retrofit option for R‑227ea, which has been used in crane cab air conditioning applications. The very low GWP of R‑515B also makes it suitable as an option for new equipment where an A1 safety class refrigerant is considered an essential requirement.
When looking at very low GWP options for R-404A type equipment, the most likely candidates are R‑454A, R-454C and R-455A. All these options have a cooling performance sufficient to be considered, however they all have the refrigerant safety class A2L, i.e. they all have a degree of flammability and therefore cannot be considered as retrofit options as it is unlikely the same equipment will be compliant with the pressure equipment safety regulation when changing from an A1 safety class to an A2L safety class refrigerant.
Think very hard about the refrigerant choice in new equipment!
If you are planning to install new equipment and your 'go to' refrigerants have a GWP above 750, it is very tempting to take the easy option and continue using the same refrigerants you're used to using, but you could quickly end up with a system that will become very costly to operate.
If you are a R-134a user then there is one more retrofit step available (R-513A) but if you are still installing new equipment with R-448A or R-449A, there are no lower GWP retrofit options! The equipment you install today will be reliant on the availability of these refrigerants. Whilst at some point there may be some reclaimed refrigerant available, there is a high probability that refrigerant availability will become a serious issue long before the equipment reaches the end of its expected mechanical lifetime.
It is very tempting to think that the very low GWP refrigerants are still something you have to consider in the future, but the reality is that you should be installing these products today to ensure the equipment will have the maximum lifetime. There are a large number of components already available for the very low GWP refrigerants and more are being introduced every month.
There may well be a learning curve to using these new products, but for the majority of applications, the future of RACHP will involve using a refrigerant that is either flammable to some degree, toxic or has explosively high pressure. So don't delay the inevitable, the team at Climalife are willing and able to help you to navigate to an eco-efficient sustainable future.