A2L Refrigerant Webinar 7 May 2020 at 08:30am
Climalife UK

ARTICLE EDITED: 19/5/20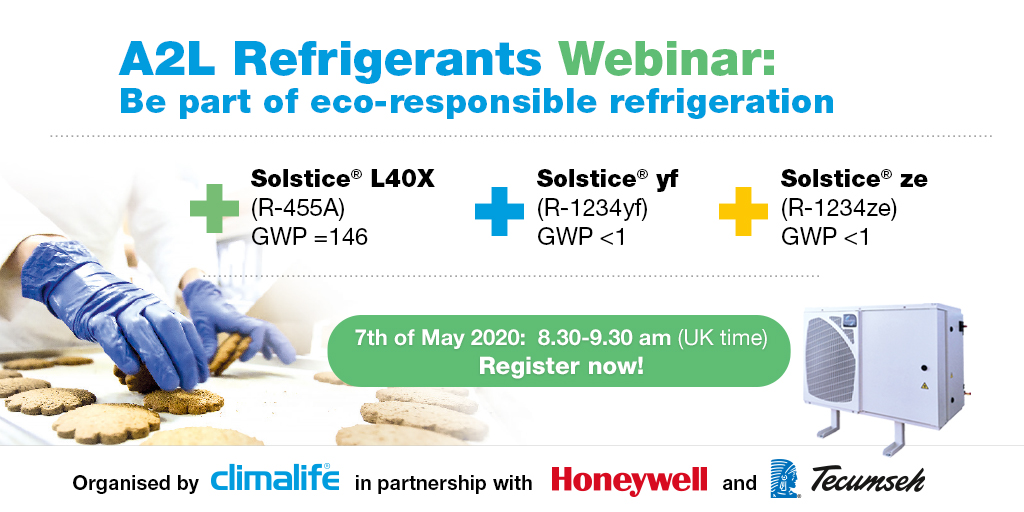 This webinar on A2L refrigerants is a unique opportunity to better understand why this technology is the solution for new installations over the coming years.
You will have the opportunity to enhance your knowledge on the use of A2L refrigerants in condensing units from 1 to 40kW for applications in supermarkets, convenience stores, cold rooms and cold stores.
Three such refrigerants; Solstice® yf, Solstice® ze and Solstice® L40X cover the entire refrigeration process, improve the energy efficiency of the systems and meet the requirements of the F-Gas regulation with a GWP < 150.
Want to know more about A2L refrigerants ?
Then this webinar is for you! Organised by Climalife in partnership with Honeywell and Tecumseh, some of the experts in the industry will present the components and equipment approved for these A2L refrigerants and will go into more detail about their simple application by covering questions on flammability, charge calculation, glide, etc. through detailed case studies carried out in the field.
Register now and ask questions ahead of the webinar now via the registration form. Be part of eco-responsible refrigeration !
REGISTRATION IS NOW CLOSED.
A REPLAY IS NOW AVAILABLE ON YOUTUBE.