Emerging from lockdown: Ensuring your A/C is clean!
Climalife UK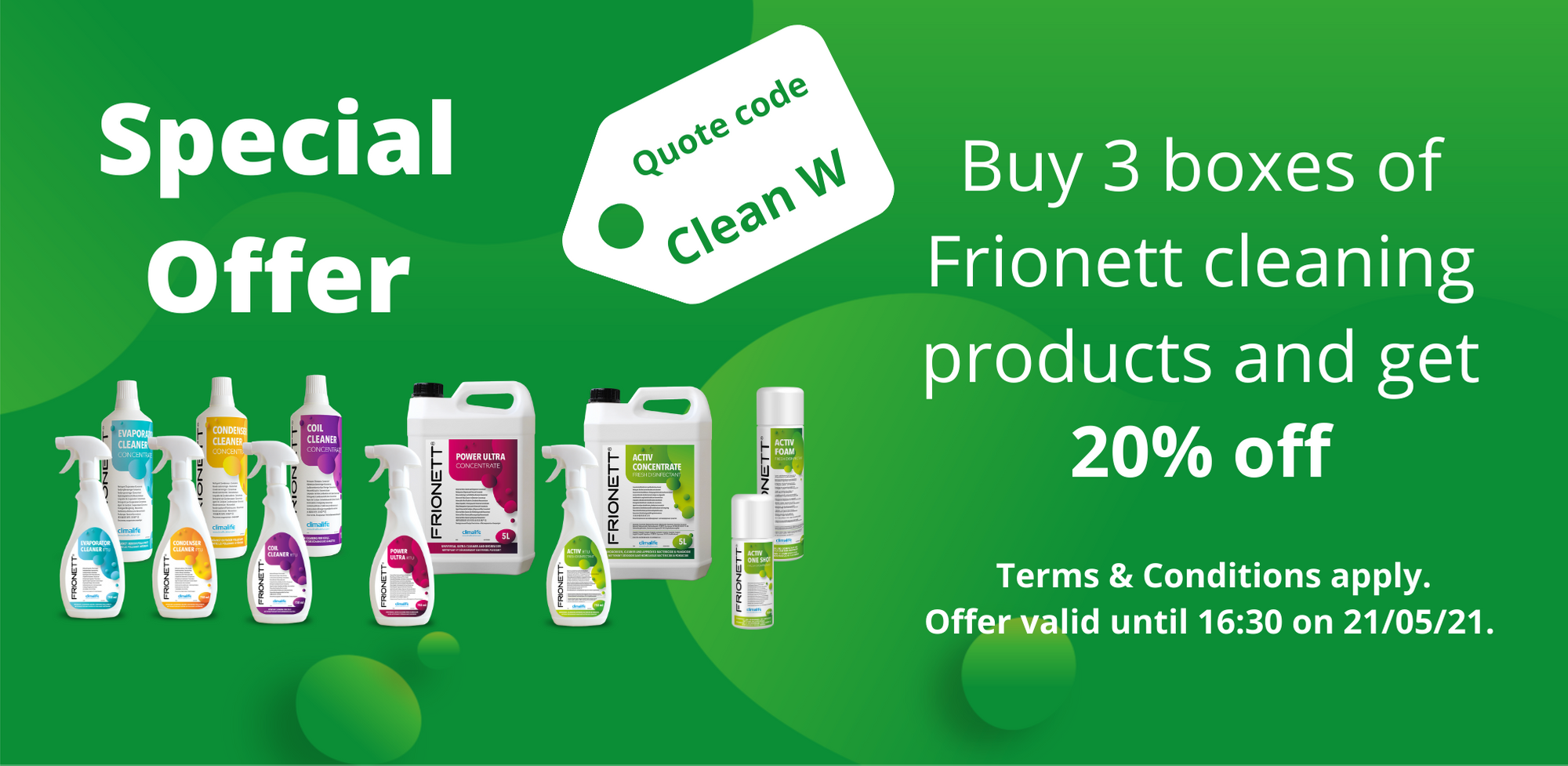 Our range of Frionett® products will help get your air conditioning systems ready!
Over the last few months, it is likely that air conditioning systems have accumulated dust, debris and bacteria. Without regular checking and maintenance, all of this build up can have a big impact on the performance of the system and it could be consuming more energy and therefore more money.
Why should you clean air conditioning systems?
To maintain the energy efficiency of the system
Helps to maintain the heat transfer part of the system (evaporators and condensers)
The appropriate cleaning process can eliminate unpleasant smells that can be emitted from the system
Prevents the build-up of impurities on components
AC units with clean coils can run more efficiently and increase energy savings
Which Frionett® product is right for the job?
Frionett® ACTIV - for use on indoor A/C units
Frionett® Coil Cleaner - for intensive cleaning and degreasing of coils (eg fan-coil, VRF, VRV)
Frionett® Condenser Cleaner - to clean outdoor pollutants from the external units
Frionett® Evaporator Cleaner - to clean indoor pollutants from air-conditioning and refrigeration systems
Frionett® POWER ULTRA - for use as a powerful and lightly scented, general-purpose cleaner of all smooth surfaces


COMING SOON

Frionett® Activ' one shot: fight back against viruses*!
Frionett® Activ One Shot will soon offer a virucidal* action alongside its bactericide and fungicide formulation.
Frionett® Activ One Shot will disinfect the air in enclosed spaces and can be used to treat ventilation ducts.
The new fragrance-free formula combats contained viruses includ­ing coronavirus. It is recommended for both preventative and curative uses.
To eliminate viruses*, bacteria and fungi from venti­lation ducts and air conditioning systems in just a few steps!
*Active on contained viruses (according to Vacciniavirus modèle MVA, a vaccine/virus model) in accordance with EN14476 in 5 minutes at 20 °C under clean conditions. Bactericidal in accordance with EN1276 and EN13697. Fungicidal in accordance with EN1650 and EN13697.

Frionett Offer Terms & Conditions
- Valid on all accepted orders with a minimum order of 3 boxes or more of Frionett products when quoting the discount code at order stage.
- There is no maximum limit on the order but orders are subject to availability.
- The offer will run from 0830 on Thursday 22nd April 2021 and close at 1630 on Friday 21st May 2021.
- The offer is for 20% off the product price excluding VAT and does not include discount on any associated delivery costs.
- This offer is only valid in the UK to customers with an account open with us
- If you are not an existing customer but you would like to purchase Frionett products, please contact climalife.uk@climalife.dehon.com to set up an account and allow 2-3 working days for this to take place.
- We will apply the discount on the order and it will be invoiced at the discounted price.
- This offer is being run by IDS Refrigeration Limited (branded as Climalife), of 22 Apex Court, Woodlands, Bradley Stoke, Bristol BS32 4JT.
- IDS Refrigeration Limited reserve the right to amend these terms and conditions at any time.
- IDS Refrigeration Limited reserves the right to withdraw the offer at any time.
For any questions regarding this offer, please contact us at climalife.uk@climalife.dehon.com.

We care for our customers, people, products and planet.