Which refrigerants will become mainstream in the next 5-10 years?
Climalife UK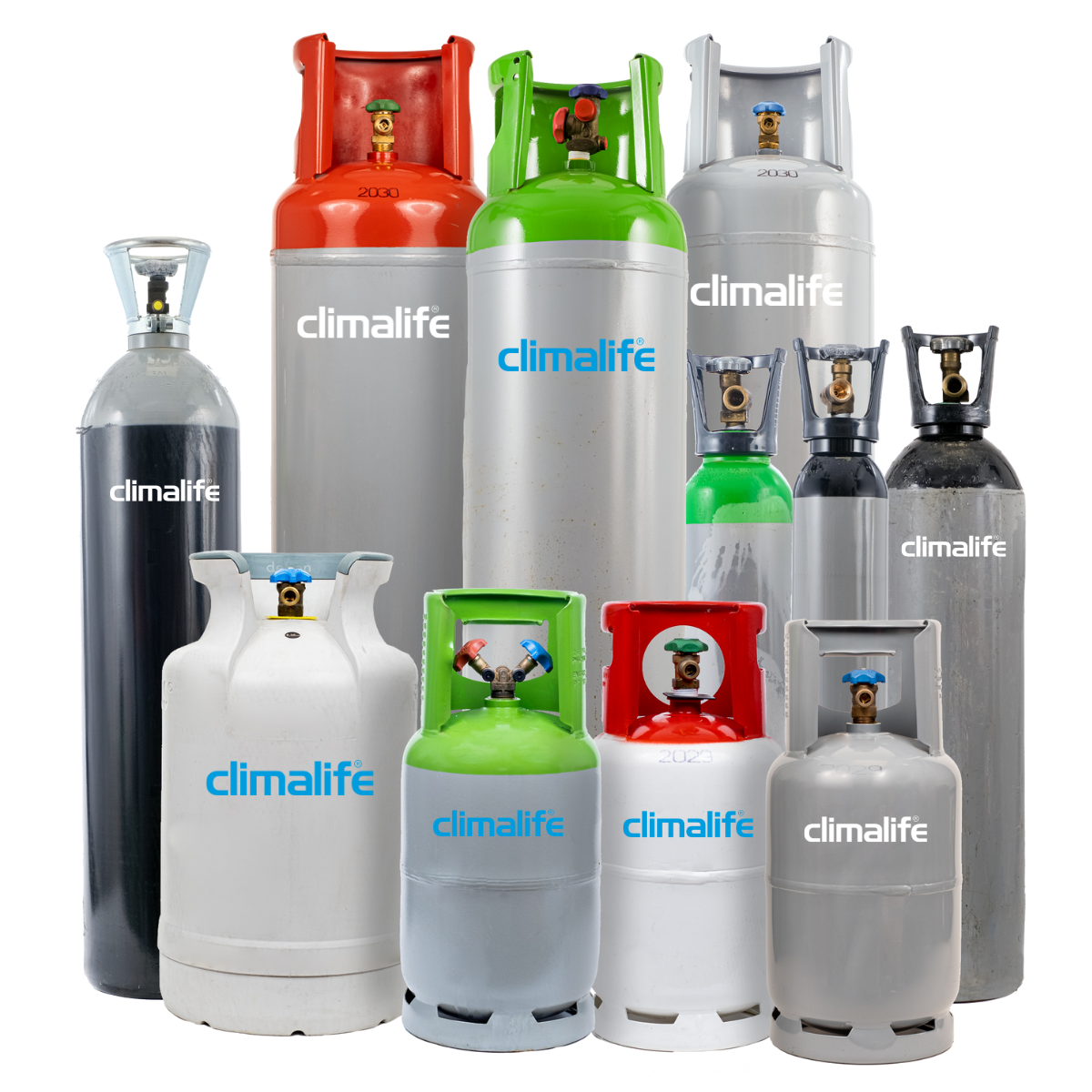 What's new in 2023?
R-471A
The new refrigerant based on HFO technology with a GWP less than 150. It is non-flammable, non-toxic, and offers significant advantages over CO2 and traditional fluids such as R-404A. In medium temperature refrigeration installations R-471A offers an improved energy efficiency and helps to reduce the overall carbon footprint. It can be used in a wide range of installations and is perfectly suited to retail commercial applications. R-471A is a safe (non-flammable A1), medium pressure, energy-efficient solution that is easy to install, handle, store and transport.
R-456A
R-456A is a non-flammable alternative designed to extend the useful life of R-134a automotive AC systems. R-456A has a GWP (687) less than half that of R-134a (1430) and provides a cooling capacity boost for older vehicles. R-456A is compatible with the existing oil types and can be used to top up R-134a systems making it an ideal option to move to a lower GWP refrigerant and extend the serviceability of the system.
R-473A
Until now, very low temperature refrigerants (-50°C to -75°C applications) have suffered from very high GWPs but R-473A offers a solution with ~90% lower GWP than R-23 or R-508B. R-473A has a cooling capacity >20% higher than R-23 and with a small (3-4K) temperature glide. Performance and physical properties allow for easy adaptation of existing system designs.
Which are the Rising Stars?
As we move deeper into the F-Gas phasedown the growth of low and very low GWP options is picking up and if you're not already using them, these are the products you should be planning to use for future new installations.
R-454C / R-455A
Both products are <150 GWP alternative options for refrigeration applications where R-404A, R-507A, R-407A, R-407F, R-448A or R-449A would have been used. There may also be some R-407C applications for which one or both products may be suitable. Both R-454C and R-455A have the low flammability A2L safety classification and are not suitable for retrofitting in systems only designed for non-flammable refrigerants.
R-454A*
In terms of performance and properties R-454A is very similar to R-448A or R-449A, has a GWP of 239 and has the A2L safety classification. Not suitable as a retrofit option, R-454A is ideal for new installations needing a higher cooling capacity e.g. blast freezing.
R-454B
Very similar to R-410A in performance and properties, R-454B offers a >75% reduction in GWP compared to R-410A. R-454B is also an A2L safety class refrigerant and therefore not suitable as a retrofit option but is increasingly used in new scroll compressor chillers.
R-515B*
R-515B has a performance profile similar to R-1234ze but has the non-flammable (A1) safety class and a GWP of 293. As it is non-flammable it could be used as a retrofit option but has a significantly lower cooling capacity than R-134a so in most cases would only be suitable for new equipment.
Today's established Very Low GWP stars!
There are a number of very low GWP products that are already well established and will continue to displace the higher GWP products in use today.
R-1234yf is mainly used in the automotive market but is also steadily growing in other RACHP applications. R-1234ze is widely used in large chiller applications and R-1233zd is filling the long-time vacant low pressure chiller requirement.
Highly flammable A3 safety class refrigerants such as R-290 and R-1270 are continuing to dominate the small integral system market, making some head way in the chiller market, and expected to be a popular choice for the imminent growth of the heat pump market.
To round off the list there are R-744 and R-717. Both are well established and continuing to grow despite the technical challenges of handling very high pressure or increased toxicity refrigerants.
If you are still currently installing new systems using refrigerants which are not included here, then take a moment to consider how long your chosen refrigerant will be available in the future and whether a different choice is needed before the system is installed.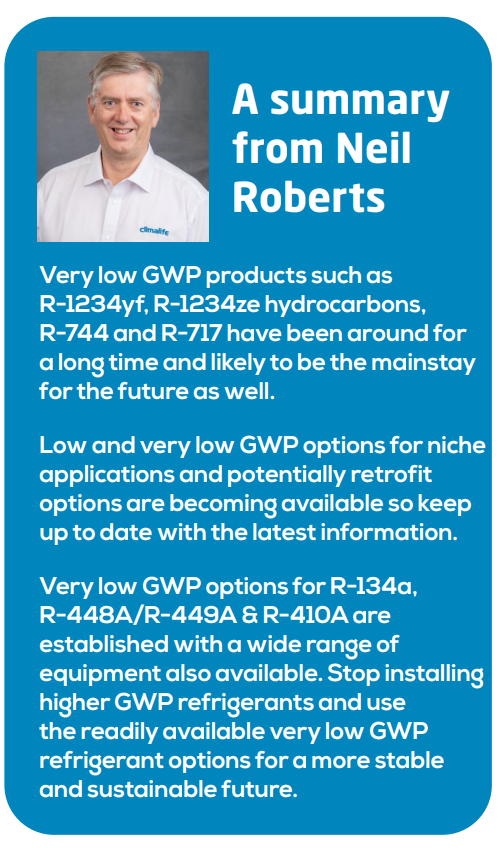 *Current legislation would not permit the use of these refrigerants in multi-compressor retail applications of 40kW of higher capacity.