Our new UK newsletter #2 is out !
Climalife UK

Welcome to the 2nd edition of our Climalife UK newsletter, dedicated to refrigeration and air conditioning professionals in the UK.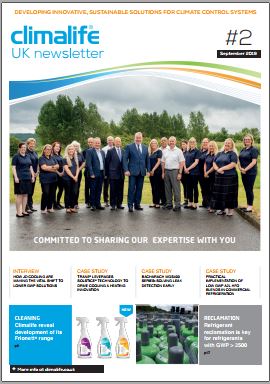 This edition contains useful refrigerant articles from Peter Dinnage, case studies from Chemours and Honeywell plus an interview with JD Cooling's MD John Dye.
Find out more about how Bacharach MGS400 series gas detection was used on a CO2 system plus useful advice for handling and storing lubricants, details of our new Frionett cleaning product range and an interview with our HTF Product Manager, talking about HTF use in the food production industry.
If you haven't already received a hardcopy, contact your local sales rep or send us an email.