Refrigerant Retrofitting - webinar
Climalife UK

We are pleased to announce a new webinar in the series on Tuesday 16th June. Cooling installers, engineers and technicians based in the UK, are invited to join Dave Richards, Head of Sales at Climalife UK, at 10-10.45am, who will be discussing solutions for Refrigerant Retrofitting.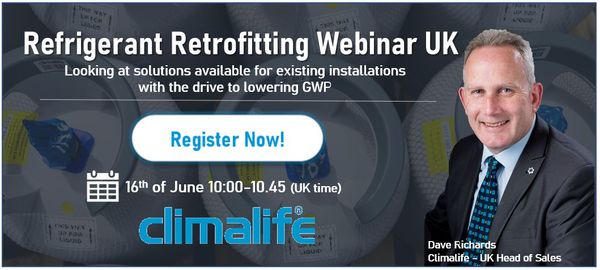 Climalife have a long history in providing good advice on refrigerant retrofitting. This webinar is aimed at looking at what solutions are available for existing installations with the drive to lowering GWP. The webinar is free to attend and includes an opportunity to raise a question in advance.
Moving on from recent webinars with some of the large equipment manufacturers and refrigerant producers, Climalife in the UK will be hosting some shorter webinars, focussing on some more niche topics. These targeted sessions, will be short so that they are easy to fit into busy calendars.
Register today and we look forward to seeing you there!