Q&A from Climalife Webinar 6 October 2021
Climalife UK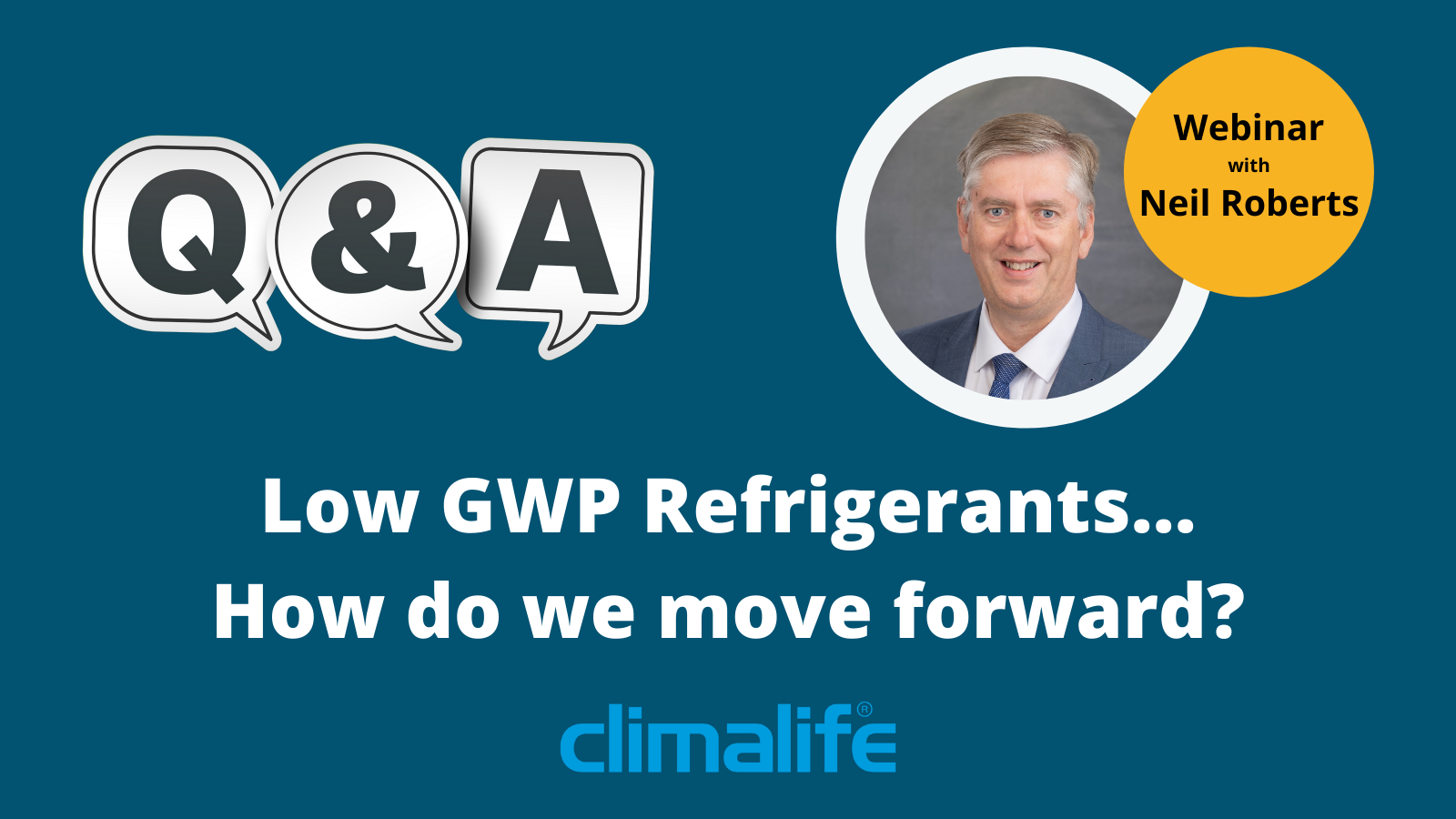 We are very pleased to publish the questions and answers from our webinar held on 6 October 2021. Questions have been grouped, where applicable, into similar topics.
Q: Is REACH a threat for A2L ?
Q: What about PFAS issue?
Q: Interested to understand REACH's impact on HFC/O Refrigerants if they might have a successful regulation by 2025.
A: There is a proposal within the EU to ban per and polyfluoro alkylated substances (PFAS).
PFAS are a large group of >9,000 chemicals that are used in many different applications, due to their useful intrinsic properties (e.g. grease resistance, water repellence). However, some PFAS are also persistent chemicals and some have demonstrated a range of negative consequences for human health and the environment. There are certain PFAS under EU REACH regulations that have been recognised as Substances of Very High Concern (SVHC) and there are currently two that have been identified as Persistent Organic Pollutants (POPs), PFOA and PFOS. Under the current EU proposals the definition of PFAS will include the majority of fluorinated refrigerants. There is a concerted effort from the refrigeration industry to remove refrigerants from the proposed regulation as they are already regulated by the F-Gas regulation. The Great Britain authorities are also considering whether action is needed to control PFAS emissions and the refrigeration industry has been consulted with indications that the current regulation covering fluorinated refrigerants may be considered sufficient. Numerous research projects have also reported that there is negligible effect on human and ecosystem health from low GWP fluorinated refrigerants.
There is currently an opportunity to influence these decisions within the EU with a call for evidence currently open and all users of refrigerants are encouraged to submit data to the European Chemicals Agency (ECHA) via their website (https://echa.europa.eu/calls-for-comments-and-evidence). This is open until 17th October 2021.
Q: Is R-513A no longer a good option to be used instead of R-134a?
A: The webinar focussed on low and very low GWP refrigerant options which arbitrarily considered refrigerants with a GWP of 500 or lower. R-513A has a GWP of 631 which is why it was not mentioned during the webinar but as it is an A1 safety class refrigerant and has a relatively low GWP, R-513A should definitely be part of the strategy to move to lower GWP refrigerants, and for applications where the use of a lower GWP A2L option may not be possible, R-513A would be an ideal replacement for R-134a type technologies.
Q: What is timeline for R-410A conversion?
Q: Is R-454B a good option to use instead of R-410A in new equipment?
Q: Replacement for R-410A and future of VRF regarding required kg refrigerant.
A: Under the F-gas phase down it is clear that higher GWP refrigerants such as R-410A are not sustainable for large volume applications, but knowing exactly when they will be affected by the phasedown is very difficult to predict. Where possible low GWP alternatives should be used in new equipment as there are no low GWP (<750) retrofit options for R-410A equipment. R-32 has already been widely used in small split systems and numerous scroll chiller manufacturers have announced the availability of systems suitable for use with R‑454B. In the future it is possible that some R-410A applications are displaced in chillers and heat pumps by refrigerants such as R-1234ze, R1233zd, R-1336mzz(Z) and R-454C using different system architectures but this will be OEM lead. For news on the future of VRF keep an eye on the industry media to keep track of developments to comply with safety standards and regulations for this type of technology.
Q: Are any of the new low GWP refrigerants suitable for rooms at -42°C?
Q: Other than CO2 what gasses will be available for use in -40°C coldrooms prior to the EOL of the existing HFC blends like R-507?
A: In principle, from a performance point of view the low GWP refrigerants can be used in cold rooms at -50°C evaporating temperatures. Theoretical cycle calculation using 2 stage compression with internal liquid subcooling gives the following results.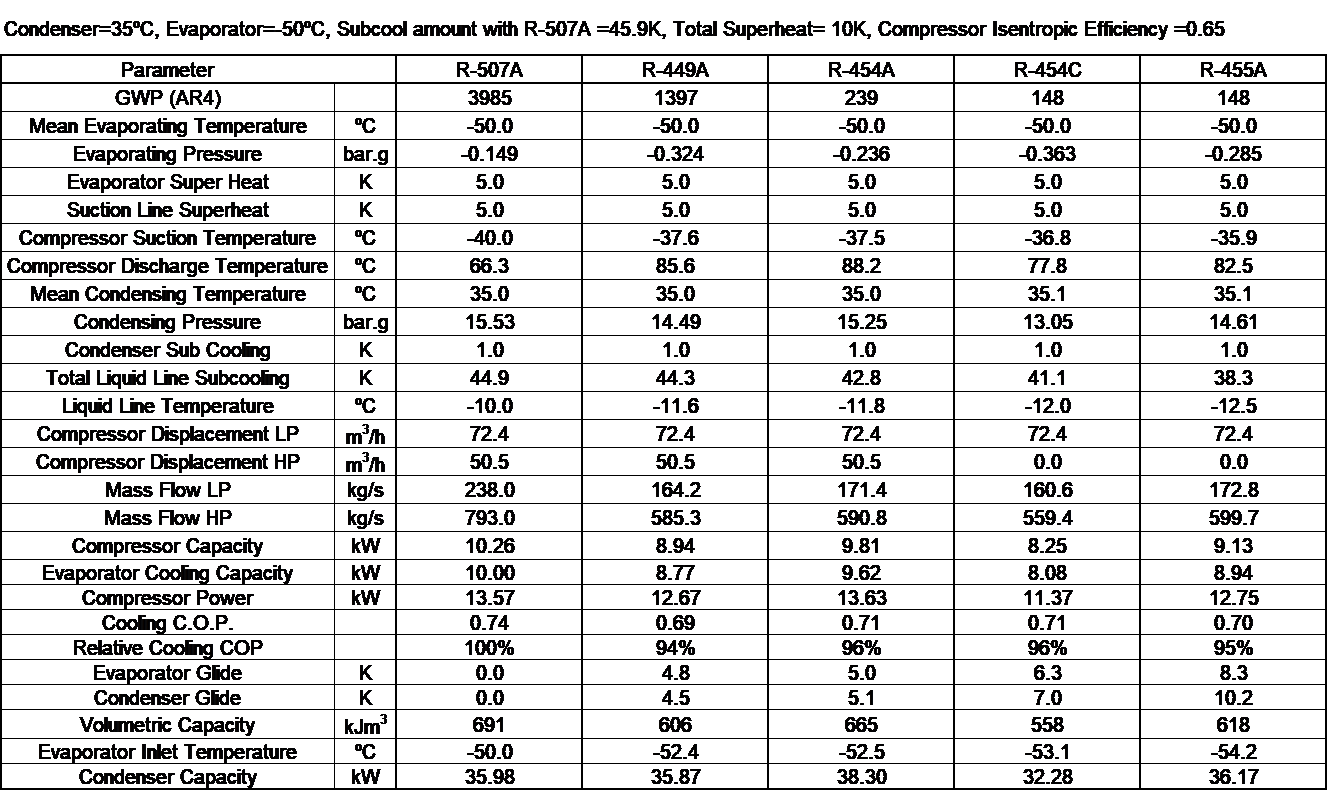 Using the same system architecture as R-507A, the A2L refrigerant R-454A (GWP 239) is likely to be the best candidate. Compliance with the necessary safety standards and regulations is needed which will depend on multiple factors as outlined in the presentation. Comparison with a suitable R-744 system should be made to ensure the system with the best energy efficiency at these conditions is chosen.
Q: With the change of refrigerant from time to time how long are we looking before the next new gas will be introduced?
A: It is very unlikely there will be any new refrigerants with significantly different properties to those currently available. Any new refrigerants are likely to focus on niche applications where the currently available refrigerants do not perform adequately. Papers have been published indicating the industry has effectively exhausted the choice of available 'building blocks' for new refrigerants without exploring higher toxicity molecules, or to put it in simple terms, the refrigerants ingredients cupboard is very bare.
Q: Which is the maximum allowable amount of A2L refrigerant in system for safety reasons?
Q: Safety precautions when using Class A2L refrigerants. Especially when retrofitting new equipment to plant rooms?
Q: Impact on plant room design of A2l refrigerants compare to AI similar refrigerants, namely 513 different mixes A and B?
Q: What about negative applications and electrical heater for evaporators defrosting?
A: There are several standards that define suitable safe refrigerant charge quantities. Some are equipment specific such as EN 60335-2-40 for air conditioning and heat pump equipment and IEC 60335-2-89 for commercial standalone plug-in units. These application specific standards have precedence over more general safety standards such as EN378. As shown during the webinar there are many different factors that can affect the maximum allowable refrigerant charge of any refrigerant. The examples shown in the webinar mainly focussed on using EN378 with systems where at least part of the system containing refrigerant was in an occupied space but there are scenarios, e.g. outdoor isolated water chillers with authorised access only, where EN 378 does not restrict the refrigerant charge. The maximum charge where refrigerant containing parts of the system are in occupied spaces varies depending numerous criteria including the access category, the location category, application (human comfort or other) and the refrigerant. The exact details can be found in EN378 part I annex C but it is possible to go up to 84kg with an A2L refrigerant with a remote condensing unit and additional safety measures as defined in EN378. The Climalife Charge Calculator Tool (a2l.climalife.com) can be used to help determine the appropriate requirements under EN 378 or just contact Climalife directly for assistance.
When using A2L refrigerants above the QLMV and QLAV concentrations additional protective measures include ventilation, safety shut-off valves and safety alarm, in conjunction with a gas detection device.
For machine rooms or when in the open air the construction requirements of EN378-3 4.2 and 4.3 need to be followed for all refrigerants. When using A2L, A2, B2L, B2, A3, B3 safety class refrigerants the machine room would need to be assessed using the principles in EN 60079-10-1 to determine if a hazardous zone exists. When using an A2L refrigerant, electrical equipment is deemed to comply if the electrical supply is isolated when the refrigerant concentration reaches 25% of the lower flammable limit (LFL). Equipment which remains live at A2L refrigerant concentrations above 25% of the LFL must be suitable for operation in a hazardous zone.
If the requirements of EN 378 are met then there should not be a flammable atmosphere formed and therefore the use of an electrical defrost heater is possible but if there is the possibility of a flammable atmosphere forming around the defrost heater then the surface temperature should be limited to the auto-ignition temperature (AIT) minus 100K. For example R‑454A would be (457-100)°C and R-454C would be (444-100)°C.
Q: Why to move to A2L refrigerants instead of A1 refrigerants that have lower flammability issues?
Q: When is 2500 GWP limit going to be decreased for Stationary systems Condensing units and what limit will it be?
Q: Can we use A2Ls refrigerant without a certification and equipment?
A: Most A1 refrigerants have a GWP which will be difficult to accommodate as the F-Gas phase-down progresses. Where possible users should aim to use refrigerants with a GWP <500 (also see previous question about R-513A) which in most cases will lead to an A2L refrigerant. There are some low GWP A1 refrigerants e.g. R-515B, R-1233zd, R-1336mzz(Z) but these are not suited to many refrigeration applications. The only other A1 low GWP option is R-744. As shown in the webinar, it's important to assess the energy performance and cost impacts as well as system complexity of all potential low GWP options, in many applications R-744 will not compare favourably with A2L options.
As mentioned in the webinar the F-Gas legislation in Great Britain and the EU is being reviewed. It seems clear that the 2500 GWP limit will be scrutinised but new legislation is unlikely to be introduced until 2023 at the earliest.
Under the current F-Gas requirements certification is only required for handling refrigerants containing components listed in Annex I. Having said this all refrigerants are classed as hazardous in one way or another and health and safety legislation would take a dim view and anyone not suitably trained handling hazardous substances.
In addition, as already mentioned, the F-Gas legislation is being reviewed and there is a lot of support for including certification requirements for handling all refrigerants in the revision.
Q: R1234ze needs flammability label on its recovery cylinder for transportation?
A: Different regulations have different requirements when looking at safety requirements. The refrigerant safety classification standards ASHRAE 34 and ISO 817 consider flammability at a range of temperatures and use the worst-case scenario. This has led to R-1234ze having an A2L refrigerant safety classification as it is possible to cause an ignition at elevated temperatures (>20°C). The classification, labelling and packaging (CLP) regulation does not consider flammability ranges that occur above 20°C and therefore virgin or reclaimed R‑1234ze does not need to be labelled as flammable for storage and transport purposes. This is also the reason why under the pressure equipment safety regulation R-1234ze is fluid group 2 (i.e. non-flammable).
Q: Do you need to carry out the flammable concentration tests in EN 60335 or can you rule out many potentially sparking components?
A: There are many different applications covered by the EN 60335 standards but sections from a particular standard which are general and not just specific to the application addressed in the standard can be used for other applications as well. The new version of EN 60335-2-40 which covers electrical heat pumps, air-conditioners and dehumidifiers, and will incorporate the current IEC 60335-2-40, is still awaiting publication. Within IEC 60335-2-40, clause 22 gives guidance on how to determine if components are considered as a potential ignition source when using A2L refrigerants. If an electrical component or device is enclosed (e.g. a relay) and complies with annex JJ (maximum allowable opening) then it is not considered a potential ignition source. For other electrical components or devices the equations in clause 22 calculate the minimum electrical load that would form a potential ignition source using the refrigerant burning velocity, taking into account humidity.

Q: How do we keep up with equip changes?
A: Unfortunately there is no single database of A2L compliant equipment but subscribing to industry media newsletters and checking with manufacturers representatives or websites is still the best way to keep up to date.
In some markets the phasedown of HFC's combined with environmental levies based upon GWP has "fuelled" dangerous substitution of inherently 'Safe' HFC blends, with low cost but high profit margin Hydrocarbons. The HC lobby will talk-up the Flammability of A2L Blends to unwitting customers/consumers, falsely aligning A2L Blends with Hydrocarbons at a price disadvantage for those blends. What is the global strategy to protect people and infrastructure from such dangerous substitution.
The short answer to this is education. There are initiatives through international trade associations and organisations but the bottom line is that countries need to put in place the right training and regulations to ensure technicians in the industry understand the differences between the various safety classes and untrained people are not allowed to install and maintain systems or even handle refrigerants of any kind.
The full webinar recording is available on YouTube and can be viewed by clicking here.