Low GWP: A2L vs CO2
Climalife UK

Looking for the final very low GWP solution? It may not be what you expect!

Low GWP A2L vs CO2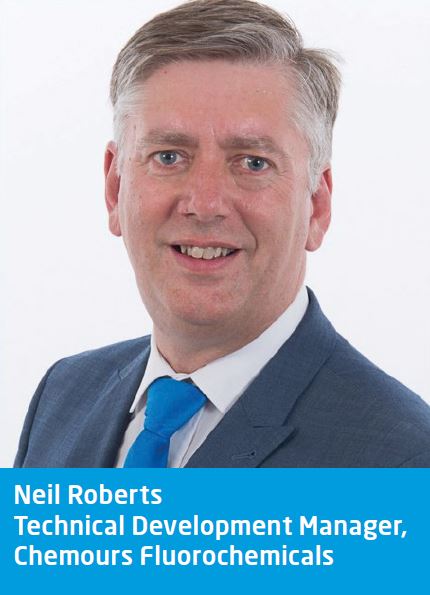 The F-Gas regulations banned the use of R-404A (and its sister R-507) in refrigeration for new install or service of existing systems for most commercial refrigeration applications from beginning of 2020.

This ban, together with price and availability issues brought about by the phasedown in CO2 equivalent quota, has focused minds on what to use instead. Mid-range GWP blends such as R-449A Opteon™ XP40 are now well established for retrofit and can be used for new equipment in the interim but the GWP is just too high for the longer term.

The use of CO2 by several of the major national retailers for their bigger supermarkets has led some to belief that this must also be a good option for the smaller format and convenience stores. In addition, there are some equipment manufacturers pushing the idea that CO2 condensing units are the best very low GWP option for cold stores.
This could not be further from the truth – An Inconvenient Truth.

Once you reach very low GWP levels (below 250) it is the energy consumption of the system that is by far the major contributor to emissions and of course this also determines the cost of running the system during its lifetime.

There is increasing evidence that purpose designed refrigerants such as the A2L blends like Opteon™ XL20 R-454C from Chemours can give much better energy performance and life cycle costs (which includes initial CAPEX and longer-term operating costs) than CO2. At a practical level this is clearly challenging the green credentials often given to carbon dioxide and certainly questions its cost effectiveness.
---
A2L Refrigerants – How Climalife and Chemours can help you use them.
---

All the very low GWP refrigerants come with some hazards whether it be high pressure, explosivity, toxicity or a degree of flammability.

In the case of the A2L refrigerants help is at hand, for example with Chemours' Charge Size Calculator to allow safe use despite the mild flammability.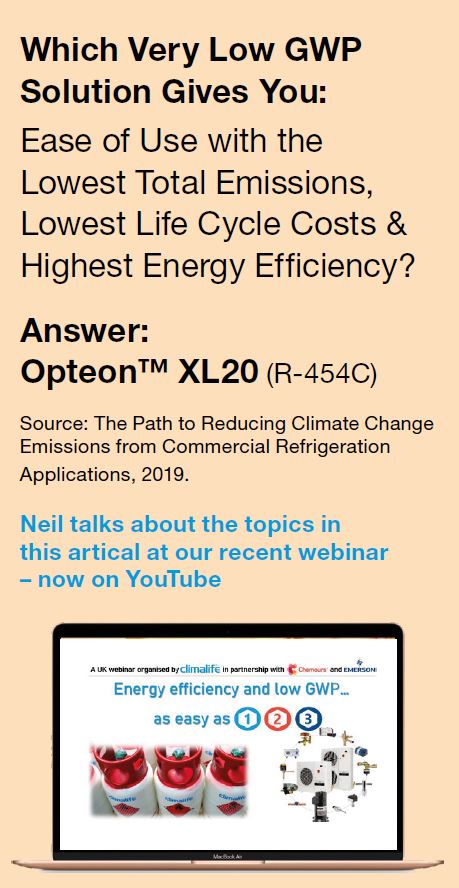 There is a lot of equipment now becoming available for use with A2L refrigerants from condensing units promoted by the major manufacturers such as Tecumseh and Emerson; custom built packs through the likes of FSW/Beacon, A1 Engineering and Hubbard and even complete cold store systems from TEV/Marstair. These are designed with A2L safety in mind and will often come with some guidance on installation.
For those new to A2L installation, Climalife UK together with Chemours can help with risk assessment directly and also through our work with our trade association body FETA who have produced some useful guides.
Success story – Central England Co-op and Opteon™ XL20 R-454C.
The good news is that recent developments allow those working in refrigeration to have a broader choice of low GWP solution for their applications and indeed for the smaller end of commercial refrigeration there is now technology ideally suited for the needs of this sector in terms of ease of use, cost and performance including minimising the
all-important energy usage.
Central England Co-operative's new store at Langley Park in Derbyshire was opened in October 2019.
This retail group had been looking for a future proof replacement with the lowest possible GWP that would maintain the advantages of the of the familiar HFCs (e.g. R-404A) in terms of ease of installation and maintenance, cost efficiency, safety and energy efficiency.
They were not convinced by arguments being made for CO2 booster and propane secondary systems that these would deliver against their criteria for their store size and architecture. They chose to use Opteon™ XL20 R-454C as refrigerant which has a GWP of 148 and therefore a good long-term choice.
The installation and commissioning of the purpose-built pack, serving 12kW of HT cooling and 3kW of LT cooling load, followed a rigorous risk assessment that is a requirement when using any refrigerant. As R-454C is A2L class the mild flammability was also considered in the assessment but equipment design and good practice in installation
served to mitigate any risks from this.
The retailer was very happy with the results and the energy saving of around 11% compared with a R-448A system which was the previous standard for new systems. Central England Co-op has now instructed all new store and refurbishment projects to utilise Opteon™ XL20 R-454C.