Looking for long term heat transfer solutions
Climalife UK

Climalife has a great range of heat transfer fluids that has met the needs of professionals working across refrigeration, air conditioning, heating, geothermal energy and solar thermal applications, for as long as it has been trading.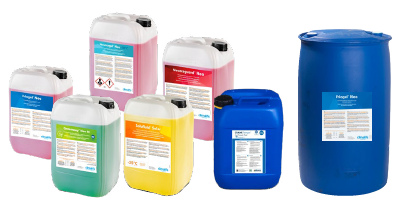 This year (2023) marks the 25th anniversary of our UK operation, and over that time, we have worked hard to continually evolve and improve our products. The one common denominator has always been quality. There are in fact, some systems operating that were installed when Climalife first started selling glycols, that still have the original product inside, the quality of which has been maintained.
Product quality
We are hugely proud of the quality of our products and regularly refer to our case studies evidencing this. One such example was a system that had been running with Friogel® Neo. After 12 years of use, the analysis showed that the glycol quality was still as good as the day it went in. Another example was an air source heat pump that had been running in an orangery for six years with Greenway® Neo N. Analysis proved that the pH level, appearance, density and freeze protection were still all within the original product specifications, demonstrating quality and giving the property owner confidence.
With our excellent inhibitor package, and regular quality checks, the life expectancy of our products can be considerably better. Climalife can perform these checks via its analysis service to ensure potential issues are picked up early and corrected.
Choosing the right product for your system
Our heat transfer fluid product range spans a wide range of operating temperatures. We can help to advise on the right product for you.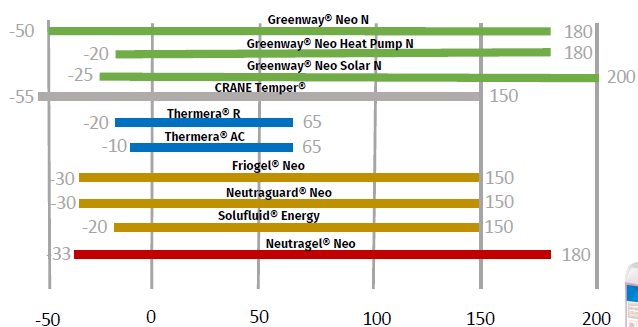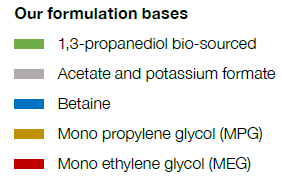 Tailor made supply
We supply Heat Transfer Fluids in tankers, IBC's, 200/210 litre and 25 litre containers.
We can supply 100% Friogel® Neo, Neutragel® Neo and Greenway® Neo N for dilution on site, or pre-diluted with demineralised water. Thermera® and CRANE Temper® are supplied at pre-made specific freeze protection levels and should not be diluted.
Whatever your requirements, we have the right product in the right size container ready for your installation.
View our full Heat Transfer Fluid range