KUTHE chooses Solstice® N15 for its applications in extreme ambient temperatures.
Climalife UK

"Cooling, heating, to the highest degree, for over 50 years"
As a key player in the steel industry, the manufacturer of industrial air conditioners had to find an alternative to R-227ea to meet its customers' demands.
The industrial air conditioning specialist was founded in 1963. KUTHE, a company based in Metz and a subsidiary of the independent fam­ily-owned EIMI group, designs and installs be­spoke air conditioners in industries with particu­larly difficult environments, such as the steel, petrochemicals and nuclear sectors, and even in areas with explosive atmospheres.
With an aver­age turnover of 12 million euros, the manufactur­er has a dual role: a "custom" manufacturer and installer, for which they are widely known on the European and world markets. With 65 employ­ees, this SME has a team of business engineers and trained refrigeration technicians who are recognised for their expertise and know-how.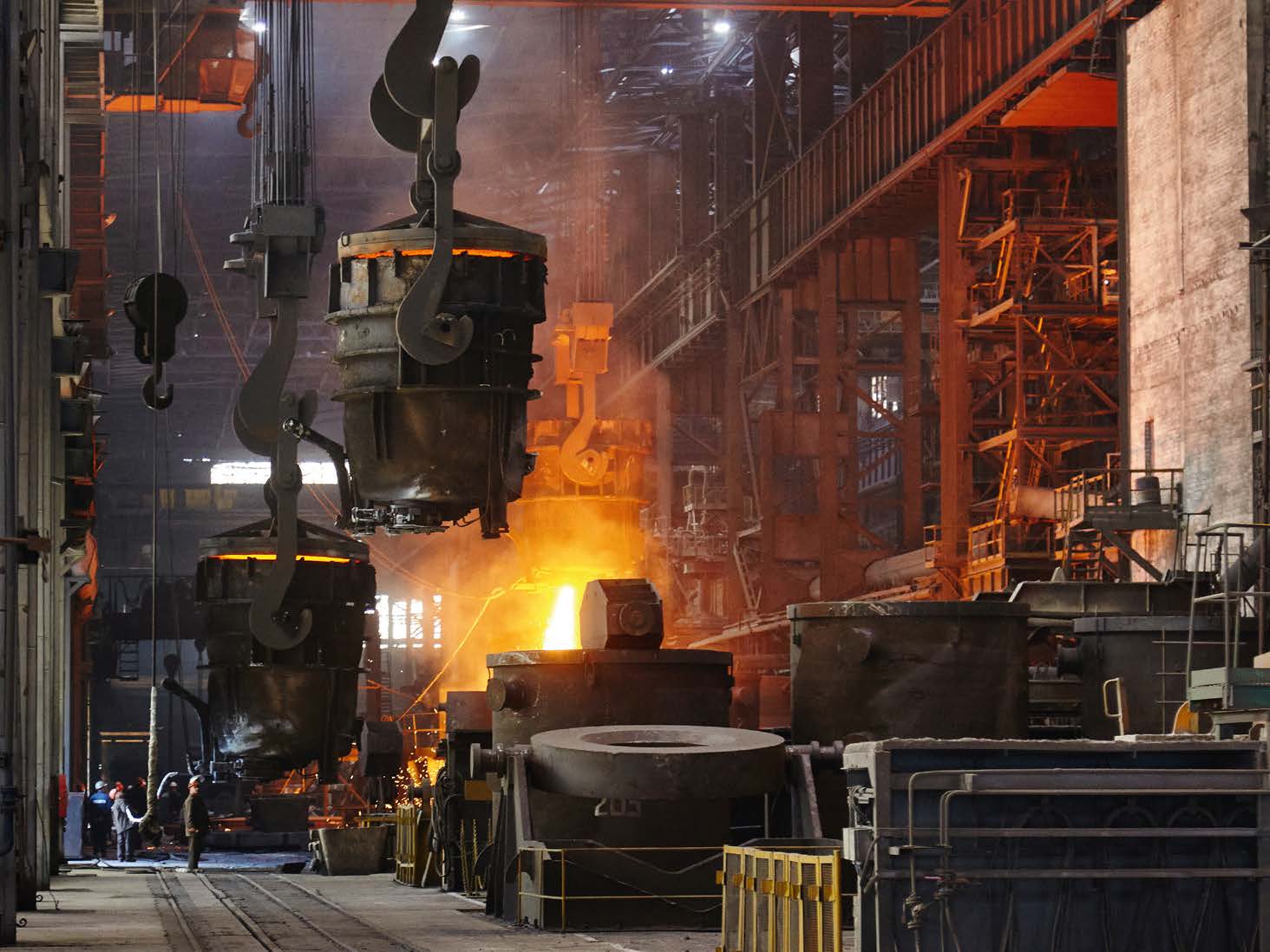 In the steel industry, KUTHE is mainly involved in the air conditioning of overhead crane oper­ator cabins, which are subject to ambient tem­peratures of up to 80 degrees, as well as in the cooling of electrical compartments inside over­head cranes.
In addition to the extreme environment applications in which KUTHE operates, changing environmental regulations represent a challenge for the manufacturer, as it has to be able to offer new solutions to its customers.
R-227ea in the sights of F-Gas
Following the ban on certain high-GWP fluor­inated gases, the company was forced to stop using R-227ea with a GWP of 3220, even though this refrigerant had been used since 2007 in around 150 to 200 machines in France and Europe.
In order to meet the deadline of 1 January 2020, when refrigerants with a GWP of more than 2500 were banned in new installations, the manufacturer had to find an alternative for its customers. "We could no longer carry out main­tenance or repair work on machines containing more than 11.4 kg of R-227ea," explains Matthieu Bourguignon, Director of the Manufacturing Division at KUTHE.
Flammability is an unavoidable (unacceptable) factor in the steel industry. Very high temper­atures and the presence of flames restrict the choice of refrigerants that can be used for this type of application.
A2L refrigerants, which are known for their low GWP/flammability, cannot be used by the man­ufacturer in applications with ambient tempera­tures above 60 degrees.
R-515B : the ideal solution
At the end of 2019, Climalife presented R-515B to KUTHE as a proactive response to their problem. The manufacturer was very quickly won over by the thermodynamic properties of Solstice® N15.
Produced by Honeywell, a sample of this new A1 refrigerant was supplied to KUTHE, giving the company the opportunity to carry out an initial test phase.
In January 2020, KUTHE carried out a detailed study in its climatic room, which quickly con­firmed its expectations. Following a theoretical study to calculate the swept volumes, evapo­ration and condensation capacities, subcool­ing, etc., tests and measurements showed that R-515B works better in a Low Pressure environ­ment. Under the same temperature conditions as R-227ea, it avoids the low-pressure problems that were experienced in cold periods with R-227ea, which worked in a vacuum. With R-515B, the system operated at a higher Low Pressure with efficiencies maintained at high and low ambient temperature conditions.
After analysing the performance of R-515B on standard air conditioners, previously running on R-227ea, a new compressor had to be selected due to the 30% lower required swept volume.
However, the heat exchangers, expansion valve and the other components were retained.
The refrigerant charge was slightly lower by about 5%. In air conditioners with an electronic expan­sion valve, an update of the Antoine coefficients in the controller is required. Thermostatic ex­pansion valves for R-227ea can be retained by simply adjusting the superheat.
"We achieved very good results that allowed us to maintain the cooling capacity with minimal change to our installations. Today, we have even been able to reduce the size of our compressors and achieve energy savings of around 30% to 40% for the same functionality as R-227ea,"
according to Mr Bourguignon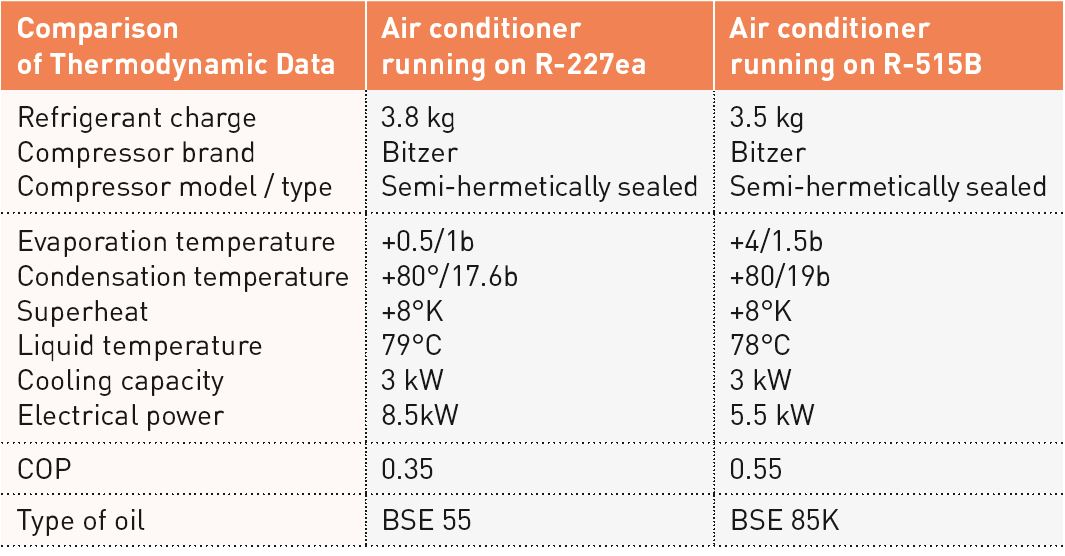 Exceptionally positive feedback
Since March 2020, KUTHE has been offering the new Solstice® N15 refrigerant to all its cus­tomers as an alternative to R-227ea, particularly within its EUROECO 6VA range. R-515B now accounts for 50% of sales and is preferred for ambient temperatures above 60°C. Six obsolete machines that used to run on R-227ea have already been replaced by new machines running on R-515B, while 15 newer ones have simply been retrofitted.

R-515B, the A1 refrigerant to replace R-227ea :
Intended for chillers, heat pumps or air conditioning in extreme environments (e.g. steel industry, petrochemicals and nuclear sectors.), Solstice® N15 is an azeotropic blend without glide, classified as non-flammable (A1).
With a GWP of 293 according to IPCC4, Solstice® N15 offers a low environmental impact alternative in applications where the long-term solution R-1234ze cannot be used due to flammability-related factors.
The refrigeration capacity of R-515B is identical to that of R-1234ze and therefore, under the extreme operating conditions, is 65% higher than that of R-227ea allowing a smaller compressor to be used and leading to a very significant increase in energy efficiency.
R-515B has the advantage of being able to operate at high ambient temperatures thanks to its high critical temperature.
R-1234ze systems run on R-515B will be easily validated by manufacturers as the design is the same.
"Today, we are very pleased to have found an alternative solution with a very low GWP, which allows our industries to continue to operate with a refrigerant with a low environmental impact. Thanks to our collaboration with Climalife, we received refrigerant samples quickly. This allowed us to test and offer an alternative to our customers in a very short period of time."
To conclude: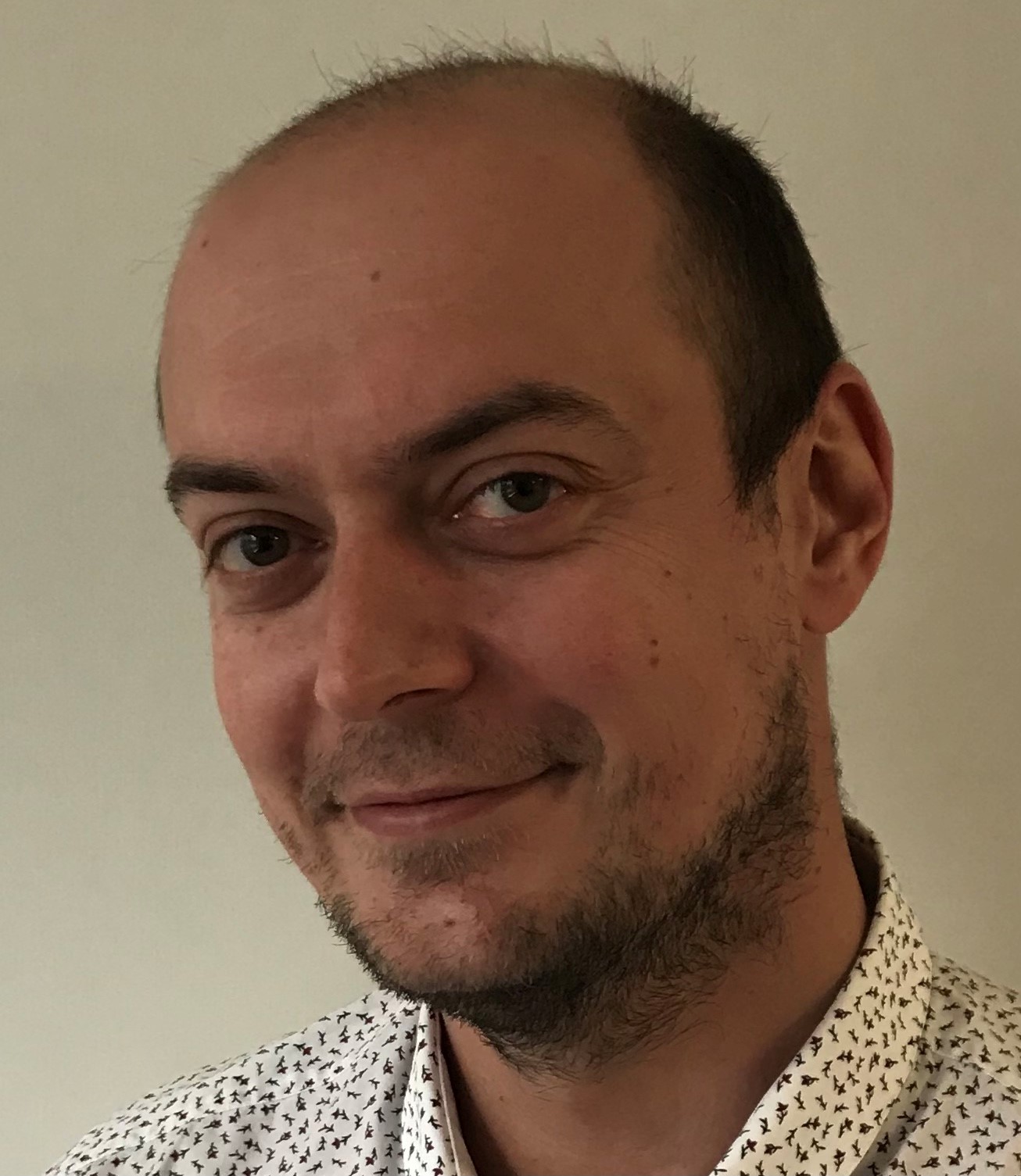 "The air conditioners installed since last July work very well with R-515B. Whether it's new or retrofit, the customers are very satisfied. We don't hear about the machines anymore, which is good news for us." Mathieu Bourguignon, Director of the Manufacturing Division at KUTHE
KUTHE - Company details
Sectors of activity : Manufacturer & Installer of air conditioners / large kitchens / after-sales service
Location : Metz, France
Year founded : 1963
65 employees
2019 turnover : €12 million