Heat Transfer Fluids – More than just Glycol
Climalife UK

H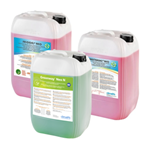 TFs are used in refrigeration, air conditioning, central heating, heat pump, solar thermal and underfloor heating applications. Although they are often one of the least expensive components of a system, a heat transfer fluid is critical to the way it functions and how effectively it transfers energy from one location to another and provides protection from freezing and corrosion.
When poor quality HTFs age, they can degrade meaning they can become less effective at freeze protection, the inhibitor package may become compromised leading to common problems such as corrosion, the formation of sludge and a change in viscosity, each of which can reduce the efficiency of systems. Therefore, the need for regular maintenance and servicing is essential. It's always worth using a good quality HTF and one that contains corrosion inhibitors which can limit corrosion in water systems.
HTF in action – for longevity and durability
Rea Valley Foods, has been based in Shropshire since 1925 and specialises in the production of cooked meats for supply to the major UK retailers via delicatessen and prepack. They have worked with Midlands-based refrigeration and air conditioning specialist Greencold for many years. Greencold are a company that oversee the design, installation and maintenance of commercial and industrial refrigeration systems and their core business is within the food-manufacturing sector.
The cooling system at Rea Valley Foods is an air-cooled, low charge ammonia glycol chiller manufactured by Mayekawa (Mycom) at their European base in Belgium. For large chill installations where the operating temperatures throughout the building are similar, Greencold prefer to specify secondary glycol-based cooling systems with a low charge ammonia primary refrigerant. The main benefits being the relatively low risk to factory occupants of an ammonia leak, the ease of adding extra cooling to the system (additional coolers to new rooms), and the low pressure of the glycol side which minimises the risk of leaks and the low complexity of the system in general makes it easy to maintain.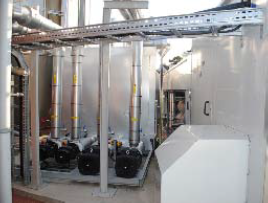 Glycol Pumps and Glycol Tank
Greencold installed 6,000 litres of Friogel® Neo heat transfer fluid supplied by Climalife into a system that cools Calcium Chloride Brine solutions, for immersion cooling food products in tanks, on its site back in June 2011. Friogel® Neo is a Monopropylene Glycol (MPG) with organic corrosion inhibitors, specially formulated by Climalife for long lasting protection, and is commonly used on food production sites across Europe.
When choosing a heat transfer fluid, Simon Andrew of Greencold states that the company look for "a proven track record of reliability, cost and availability" and they value the "broad knowledge and experience" of Climalife which has strengthened their "long-established working relationship".
In conjunction with Climalife, Greencold Ltd have performed regular sampling and analysis of the fluid in the system at Rea Valley Foods, throughout the period since first installation. This has been to ensure that no contamination or deteriorate can occur in any way, and that it continues to serve its intended purpose as a heat transfer fluid.
Greencold Director Simon Andrew tells us
"The glycol has been trouble free since its first initial charge. We have samples regularly checked by Climalife as part of our PPM visits to the plant and they have always come back with a clean bill of health."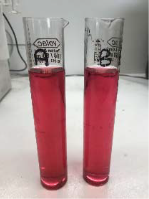 Sample A (Climalife brand new product sample) | Sample B (Rea Valley Foods sample after eight years in system)
Climalife's high grade heat transfer fluids are a cost-effective refrigeration solution as a smaller amount of refrigerant is required to transfer a large amount of heat to outside the application very efficiently. When shown the results of the glycol comparison, Simon Andrew said
"The samples always look tremendously good every time! No visible contamination or dilution. We are very pleased with the results. We take great care at the time of installation to ensure the system is clean to give longevity of the system."
Analysing the quality of heat transfer fluids that have been in a system over a period of time is highly recommended to maintain optimal performance and is a service Climalife has provided for more than 20 years and is utilised by contractors to check on the efficiency and longevity of the products in their applications.
A range of options
Although widely used, MPG is just one of several options when choosing the best heat transfer fluid for an application. Effective freezing protection range, safety, pump energy efficiency as well as overall product performance are all important considerations.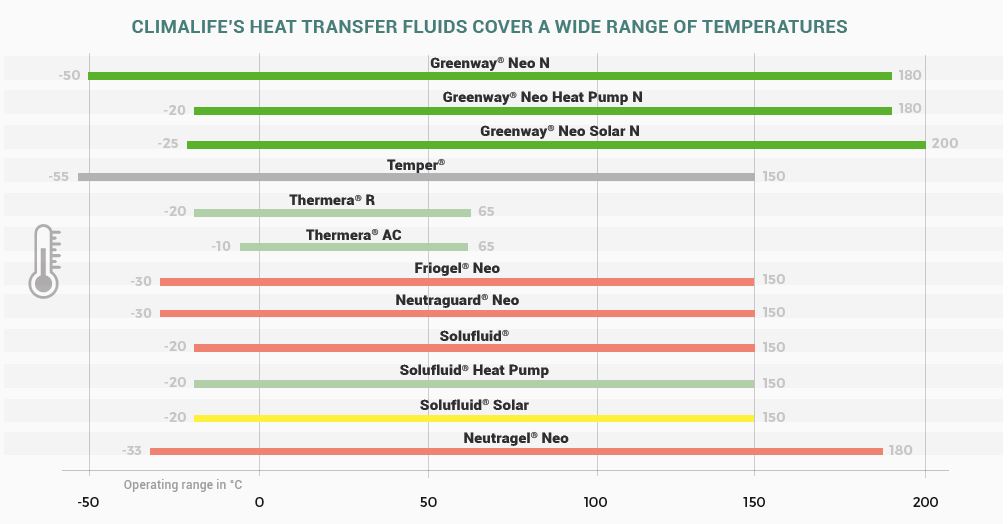 Figure 1 - Heat Transfer fluids can cover a wide range of operating temperatures
In addition to MPG, Mono Ethylene Glycol (MEG, such as Neutragel® Neo) is widely used due to its lower temperature/viscosity profile which requires a lower pump power to circulate the fluid. It is important to note that it should not be used where there is a risk of getting into the environment or food chain should any leakage occur as MEG is classified as harmful.
Both MPG and MEG are produced from the petrochemical industry and therefore their long-term environmental credentials have to be questioned, but there are plant-based alternatives on the market. Greenway® Neo N is one such product which uses bio-sourced 1,3-propanediol, an isomer of the MPG molecule (1,2-propanediol) but produced from the harvesting, fermentation and refinement of a plant-based raw material. Greenway® Neo N also has a powerful hybrid inhibitor package using an anticorrosive formulation H-OAT (neutralised carboxylic acids) without nitrite or amine which is often used with other heat transfer fluids. This gives Greenway® Neo N excellent corrosion protection, proven in testing to the standard ASTM D1384.
The properties of Greenway® Neo N are similar to MPG but the viscosity of the lower freeze protection fluid is significantly better than for MPG giving a potential for improved energy efficiency, saving design costs by using smaller pumps and smaller pipe diameters, also reducing noise from the pumps.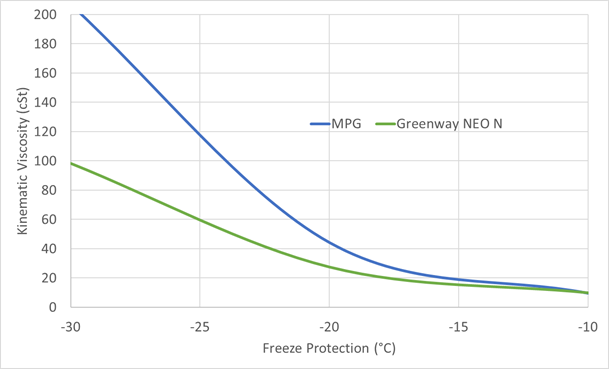 Figure 2 - Viscosity comparison at various freeze protection concentrations
Another advantage of Greenway® Neo N is that it has been registered HT1 by NSF International (National Sanitation Foundation) for use in secondary refrigeration systems, where there may be a risk of accidental contact with food products.*
With so much focus on environmental sustainability and energy efficiency, Greenway® Neo N ticks many of these boxes and whatever the application, Climalife can provide advice on the best heat transfer fluid for the job and can provide the support to ensure the fluid in the system is in the best condition to protect the system.
* In the event of contact with a heat transfer medium, even one registered to NSF HT1, the food must not be sold.