HTF with staying power
Climalife UK

A recent study by Greencold Ltd and Climalife, showed that the Friogel® Neo heat transfer fluid, supplied by Climalife has not deteriorated over the eight years that it has been in the system at Rea Valley Foods.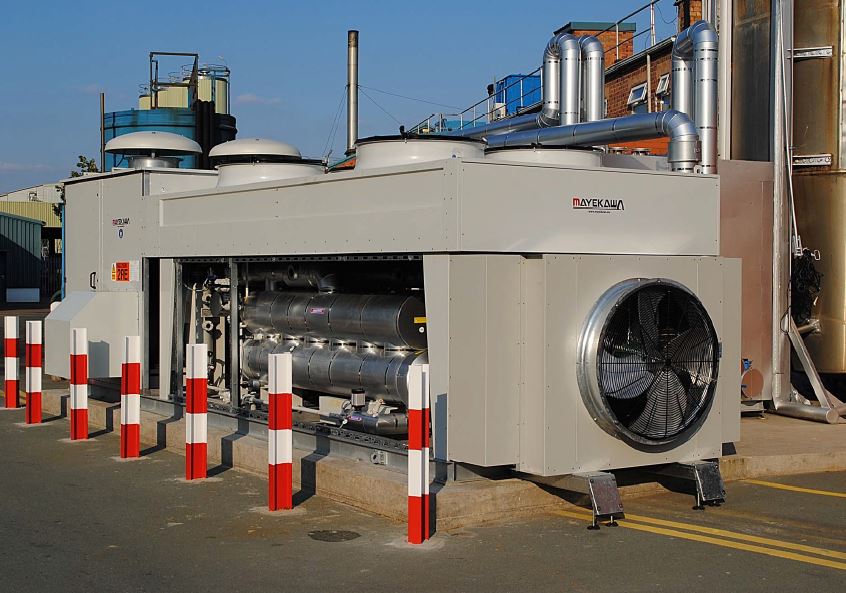 Background
Rea Valley Foods, has been based in Shropshire since 1925 and specialises in the production of cooked meats for supply to the major UK retailers via delicatessen and prepack.
Rea Valley Foods has worked with Midlands-based refrigeration and air conditioning specialist Greencold for many years. Greencold are a company that oversee the design, installation and maintenance of commercial and industrial refrigeration systems and their core business is within the food-manufacturing sector.
The cooling system at Rea Valley Foods
The cooling system at Rea Valley Foods is an air-cooled, low charge ammonia glycol chiller manufactured by Mayekawa (Mycom) at their European base in Belgium. For large chill installations where the operating temperatures throughout the building are similar, Greencold prefer to specify secondary glycol-based cooling systems with a low charge ammonia primary refrigerant. The main benefits being the relatively low risk to factory occupants of an ammonia leak, the ease of adding extra cooling to the system (additional coolers to new rooms), and the low pressure of the glycol side which minimises the risk of leaks and the low complexity of the system in general makes it easy to maintain.
THE SYSTEM AT A GLANCE

Type of chiller:

Air-cooled low charge ammonia glycol chiller

Chiller manufacturer:

Mayekawa (Mycom)

Total Cooling capacity

210 kW

Glycol inlet temperature

-8oC

Glycol outlet temperature

-12oC

Refrigerant

R717 (120kg charge)

Compressor

8-cylinder reciprocating with inverter speed control

Condenser

Air-cooled - fans inverter speed controlled

Evaporator

Flooded shell and tube with Danfoss ICAD expansion valves

PHE

Alfa Laval gasketed with titanium plates

Hot side process

25% NaCl -4oC inlet -8oC outlet

Glycol process pumps

Grundfos

Brine pumps

PCM

Sodium glycol tanks

Stainless steel T304 5mm thick 7200mm L x 1500mm W
The heat transfer fluid
Greencold installed 6,000 litres of Friogel® Neo heat transfer fluid supplied by Climalife into a system that cools Calcium Chloride Brine solutions, for immersion cooling food products in tanks, on its site back in June 2011. Friogel® Neo is a Monopropylene Glycol (MPG) with organic corrosion inhibitors, specially formulated by Climalife for long lasting protection, and is commonly used on food production sites across Europe.
When choosing a heat transfer fluid, Simon Andrew of Greencold states that the company look for "a proven track record of reliability, cost and availability" and they value the "broad knowledge and experience" of Climalife which has strengthened their "long-established working relationship".
In conjunction with Climalife, Greencold Ltd have performed regular sampling and analysis of the fluid in the system at Rea Valley Foods, throughout the period since first installation. This has been to ensure that no contamination or deteriorate can occur in any way, and that it continues to serve its intended purpose as a heat transfer fluid.
Greencold Director Simon Andrew tells us "The glycol has been trouble free since its first initial charge eight years ago. We have samples regularly checked by Climalife as part of our PPM visits to the plant and they have always come back with a clean bill of health."
FRIOGEL NEO
Monopropylene Glycol
Concentrate and ready to use HTF
Long life organic inhibitors
Protection against metal corrosion
Excellent hard water stability
Working temp range -28°C to +150°C
Freezing point -32°C
For low temp refrigeration systems and food industry
Now, eight years on from its first installation, a sample of the Mono Propylene Glycol; Friogel® Neo, was sent to Climalife UK's Technical Service department for analysis straight from the system. The results were very positive and the glycol appeared to be identical to a brand new sample of Friogel® Neo by comparison, showcasing the excellent longevity of the product.
Glycol Analysis Result

Customer

GREENCOLD LTD

Plant Location

REA Valley Foods

Plant Identification

Ammonia Chiller

Product

Mono Propylene Glycol

Appearance

Clear Red

Clarity

Very good, no particles

Freezing level protection ºC

(Expected level of protection in brackets if known)

-19ºC (-19ºC )

Specific Gravity @20ºC

1.034

Glycol Concentration %

(Expected concentration in brackets if known)

40% (40%)

pH

8.0
Peter Dinnage, Technical Director at Climalife reported "Based on the sample provided, products appears to be in good condition and shows no change to previous samples in 2017 or 2018. It will provide freezing protection to -19°C which is consistent with a 40% MonoPropylene glycol dilution."
Climalife's high grade heat transfer fluids are a cost-effective refrigeration solution as a smaller amount of refrigerant is required to transfer a large amount of heat to outside the application very efficiently. When shown the results of the glycol comparison, Simon Andrew said "The samples always look tremendously good every time! No visible contamination or dilution. We are very pleased with the results. We take great care at the time of installation to ensure the system is clean to give longevity of the system."
Analysing the quality of heat transfer fluids that have been in a system over a period of time is highly recommended to maintain optimal performance and is a service Climalife has provided for more than 20 years and is utilised by contractors to check on the efficiency and longevity of the products in their applications.
Click to view Friogel® Neo heat transfer fluid on our website