How to ease the pressure on the quota system
Climalife UK

Next year in 2021, we will see a further cut of 29% in the F-Gas quota for refrigerants that can be placed on the market and we will work with a new UK quota system.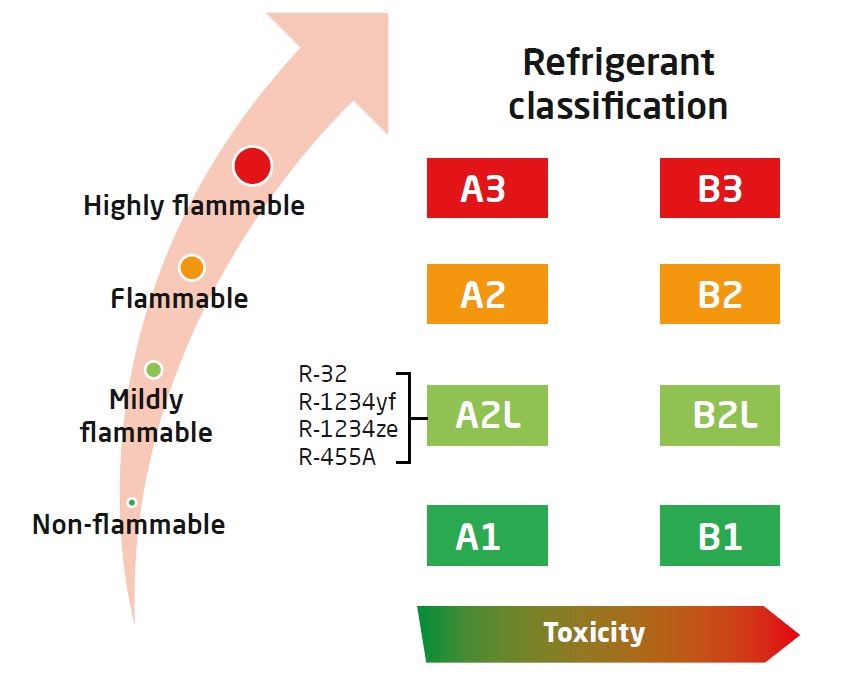 Dave Richards; Head of Sales for Climalife UK, takes a quick look at some of the options for reducing our reliance on quota and how leak detection and maintenance tools can also help ease the quota pressures, whilst improving cost and energy efficiency.
The transition period of Brexit comes to an end this year. Unlike previous quota cuts that have been spread across the whole of the EU, the next one for the UK will be based on what was placed on the UK market in 2018 and 2019.
Covid-19 and the ban on virgin refrigerants with a GWP >2500 has had a direct effect on quota demand this year. The remainder of this year is a good time to be focussing on doing more conversions from high GWP systems whilst availability of products and pricing are stable.
There are a number of ways to ease the pressure on quota for both new and existing systems.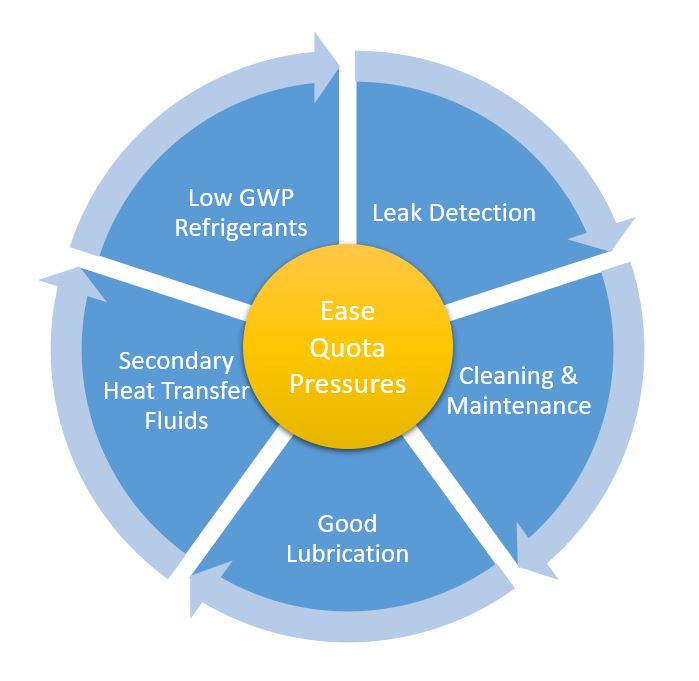 Low GWP Refrigerants
For a while now there has been increasing use of low GWP A2L refrigerants such as R-32 and the HFO and HFO blends that have come to market. These are definitely the way forward for many new systems but it's also good to consider other low GWP refrigerants such as Ammonia, CO2, Heat Transfer Fluids and Hydrocarbons, along with R-1234yf, R1234ze, and R-1233zd, that can offer very low GWP solutions and reduced environmental impact.
"It is important to consider all the options available in order to make the right choice for the system being designed, also taking into account location, application, system size and safety."
Secondary Heat Transfer Fluids
The use of water chillers that utilise heat transfer fluids (or Glycol) in new equipment can mean a much smaller charge of refrigerant is required. These systems often restrict the primary refrigerant to a plant room or a roof top which offers a wider range of refrigerants, including A2L and flammables with very low GWP, to select from.
As glycol systems can provide a much more even temperature across the whole of the coil and in the event of a leak, can be much cheaper to replace than HFC refrigerants, they provide an overall advantage compared to other system types.
Products produced from renewable resources and that have some technical advantages over traditional glycols and salt solutions, can be viable alternatives to traditional glycols. They also have excellent viscosity even at low temperatures. As with all glycols, they need to be handled correctly and should contain an appropriate inhibitor package to avoid corrosion.
Leak Detection
"One of the biggest F-Gas objectives was really about reducing and preventing leaks of fluorinated gasses to atmosphere. This continues to be an essential part of the process and there are some good tools available to help identify leaks before they become a costly and environmental problem."
It is a legal requirement under F-Gas that systems with a charge of 500 CO2 equivalent tonnes or more have static leak detection in place. With today's cost of refrigerant and many systems charge equating to thousands of pounds, it is easy to see why an early warning leak detection system is such a good idea from a cost perspective as it can detect a leak much more quickly, enabling early rectification of the problem and ultimately save money. It is claimed that a simple leak detection system can save over half of potentially lost refrigerant from a system, which protects the cost of the refrigerant and the environmental cost of it being released into the atmosphere. A complete loss of refrigerant can also harm key components and could cost more than just a refrigerant top up in the long run.
By detecting leaks early, it prevents the need for large refrigerant top ups which will help to reduce the overall pressure on quota and save money especially if the system is still running on a higher GWP refrigerant.
There are leak detection products that can suit most types of installation and budgets. Starting with products that cost a few hundred pounds via semi-conductor systems, through to more expensive products that have infra-red detection systems, which detect much more accurately. There are even products that monitor the system itself. Climalife can help and advise on which device is suitable for a particular system.
Good Maintenance
To ensure that systems continually operate at their optimum level, a good maintenance program is recommended. In recent years there has been a decline in end users seeing the value of routine maintenance in favour of a more reactive type approach. For these users, this could prove to be more costly in the long run than paying for good regular maintenance.
"A clean, well maintained system can help to preserve performance, energy efficiency, can prevent contamination, remove offensive odours and increase longevity of system life."
Regular oil changes should also form part of a good maintenance regime, to ensure all the moving parts of a compressor are lubricated to their optimum level to give you optimum energy efficiency.
Regular maintenance can help to keep breakdowns and potential leaks to a minimum which reduces the chance of additional refrigerant being required in the system.
Collective approach to ease quota pressure
As an industry, we can help to control refrigerant usage with careful thought and planning on new equipment and employ some good practises relating to effective cleaning, maintenance and leak detection. There are many products available to help the industry to collectively ease the pressure on the quota system and it is our responsibility as individuals to ensure we act in line with the legislation and take actions that support the movement towards lower GWP products.