How leak detection will support the F-Gas phase down
Climalife UK

The current F-Gas Legislation with its phase down steps is on target to cut CO2 equivalents (tCO2e) for HFCs placed on the market by at least 79% by 2030. The overall aim is to reduce and contain refrigerant emissions by taking every step to adopt responsible refrigeration. It has already led to less leaks from systems, better maintenance regimes, better trained engineers, better reclamation of refrigerant and the use of lower GWP refrigerants.
More needs to be done to keep up with the phase down steps and refrigerant leak detection has an important part to play in meeting this target.
Refrigerant leaks – What impact do they have?
A leaking system costs money and will go on costing money until the leak is fixed. Not only do fixed leak detectors ensure a leak is identified quickly it also helps the equipment owner remain legally compliant with F-Gas legislation.


Leak detection and prompt action following a leak being detected, can help to maintain the optimum efficiency of a system; avoiding an increase in energy consumption, reducing the amount of refrigerant lost to the environment and the amount needed for topping up a system to the correct level.
The impact of refrigerant leaks are:
The environmental impact
The cost of replacing lost refrigerant
Safety compliance
The cost of product or service loss
Increased energy consumption
Refrigerant leaks – What does the F-Gas legislation state?
One of the biggest F-Gas objectives was about reducing F-Gas usage and preventing leaks. This continues to be an essential part of the process and there are some good tools available to help identify leaks before they become a costly problem.

The requirement for leak detection, inspection and leak check frequency depends on the total CO2 equivalent (tCO2e) charge of the equipment. It is mandatory under the F-Gas regulation (EU517/2014), for systems with a refrigerant charge of 500 tCO2eq or more to be equipped with fixed leak detectors. F-Gas compliance also requires regular refrigerant leak checks and immediate repairs should any leaks be found.
In addition to industry specific legislation, the UK Government is looking for net zero carbon emissions by 2050 and managing refrigerant usage and minimising leaks is a key aspect to the industry playing their part to achieve this target.
How many kg of refrigerant is 500 tCO2e ?
| | | | | | | |
| --- | --- | --- | --- | --- | --- | --- |
| Refrigerant | GWP | kg = 500 tCO2e | | Refrigerant | GWP | kg = 500 tCO2e |
| R-134a | 1430 | 350 | | R-448A | 1387 | 360 |
| R-404A | 3922 | 127 | | R-449A | 1397 | 358 |
| R-407A | 2107 | 237 | | R-450A | 605 | 827 |
| R-407C | 1774 | 282 | | R-452A | 2140 | 234 |
| R-407F | 1825 | 274 | | R-507A | 3985 | 125 |
| R-410A | 2088 | 240 | | R-513A | 631 | 792 |
Owners and operators of the system have the overall responsibility for the legislation and therefore they are responsible for:
Preventing refrigerant leakage
Ensuring that leak checks are carried out
Repairing any leaks as soon as possible
Arranging proper refrigerant recovery
Maintaining records of any refrigerant losses, additions and servicing
What action can be taken?
Detect leaks early to reduce refrigerant loss
When it comes to F-Gas compliance, being able to detect a refrigerant leak early, means that the leak can be fixed as swiftly as possible. This also means that the leak is unable to grow into a large-scale leak event and the equipment can continue operating with little to no downtime. From a financial perspective, the cost to replace the lost refrigerant is greatly reduced by early leak detection, this also minimises any potential damage to the environment.
With many systems holding thousands of pounds of refrigerant, it is easy to see why an early warning leak detection system is such a good idea as it can detect a leak much more quickly allowing early rectification of the problem and ultimately save money.
It is claimed that a simple leak detection system can save over half of potentially lost refrigerant from a system. There are leak detection products that can suit most types of installation and budgets. Companies such as Climalife who supply Bacharach leak detection products can help and advise on which device is suitable for a particular system. It is very important to ensure the right leak detection equipment is selected, the leak detection needs to be able to withstand heavy usage and keep up to date with changes in refrigerant technologies.
Leak detection equipment may seem like an unwanted expense initially, especially when budgets are tight, however any refrigerant leaks that are detected and resolved sooner rather than later will have financial benefits that should more than offset the initial equipment outlay. It is also important to consider that when any refrigerant prices rise, the cost of resolving any leaks will increase too.
A solution available: Multi Zone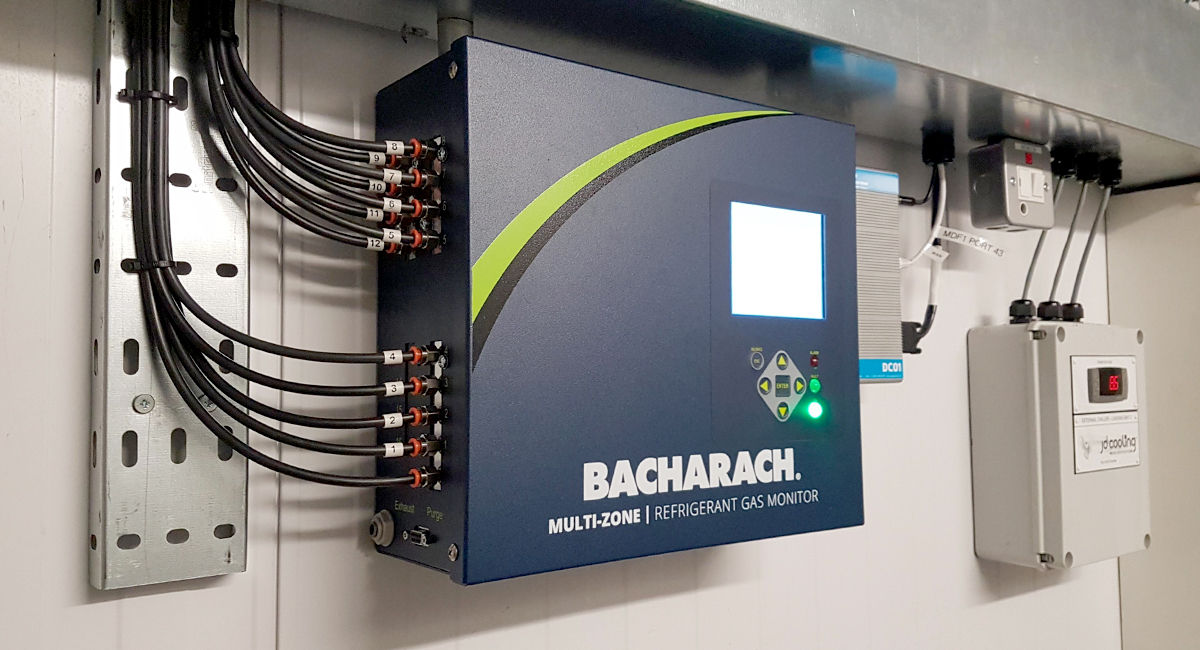 Bacharach's Multi-Zone Gas Monitor provides precise measurements enabling early leak detection for compliance with refrigeration safety codes (ASHRAE 15, EN 378, CSA-B52) and emissions reduction standards (F-Gas, CARB).
It delivers the best refrigerant leak detection available, with industry-leading MDL of 1ppm for halogenated gases, the fastest sampling frequency and the widest range of refrigerants accurately detected. The large graphic LCD display and LED status indicators provide a system-wide overview at a glance.
The Multi-Zone enhances effective refrigerant management and ensures compliance with refrigeration safety standards (ASHRAE 15, EN 378, CSA-B52) and emissions regulations (F-Gas, CARB RMP).
It detects leaks early to enable cost savings by reducing refrigerant recharge, enhancing energy efficiency and reducing risk of refrigeration failure and produce loss. A variety of communication interfaces are available including Modbus, BACnet and LonWorks, allowing easy integration into BMS / BAS systems and remote monitoring solutions.
It is ideal for:
Chillers
Grocery Stores,
Mechanical Rooms
Physical Plants
Refrigeration Racks
Walk-In Freezers.
The Multi-Zone can also connect to the DC01 data collector from Bacharach which acts as a gateway for live, leak data and integration with the Bacharach connected services. This provides tracking for leak alerts and notifying problem equipment.
F-Gas Compliance and Reporting
For F-Gas compliance, equipment operators are required to maintain precise records including inspection details for each piece of equipment.
Equipment records should specify:
The quantity and type of F-Gases installed
The quantities of F-Gases added during installation, maintenance or servicing or due to leakage
Whether the quantities of installed F-Gases have been recycled or reclaimed, including the name and address of the recycling or reclamation facility and, where applicable, the certificate number
The quantity of F-Gases recovered
The identity of the undertaking which installed, serviced, maintained and where applicable repaired or decommissioned the equipment, including, where applicable, the number of its certificate
The dates and results of the checks carried out during leak checks
If the equipment was decommissioned, the measures taken to recover and dispose of the F-Gases
Where required, these records should be made available to the regulator or the European Commission. It is therefore important to have an effective refrigerant reporting system so that records can be easily updated and reports produced when required.
Bacharach's Refrigerant Tracking and Compliance (RTC) Software provides a robust and effective platform for swift F-Gas reporting.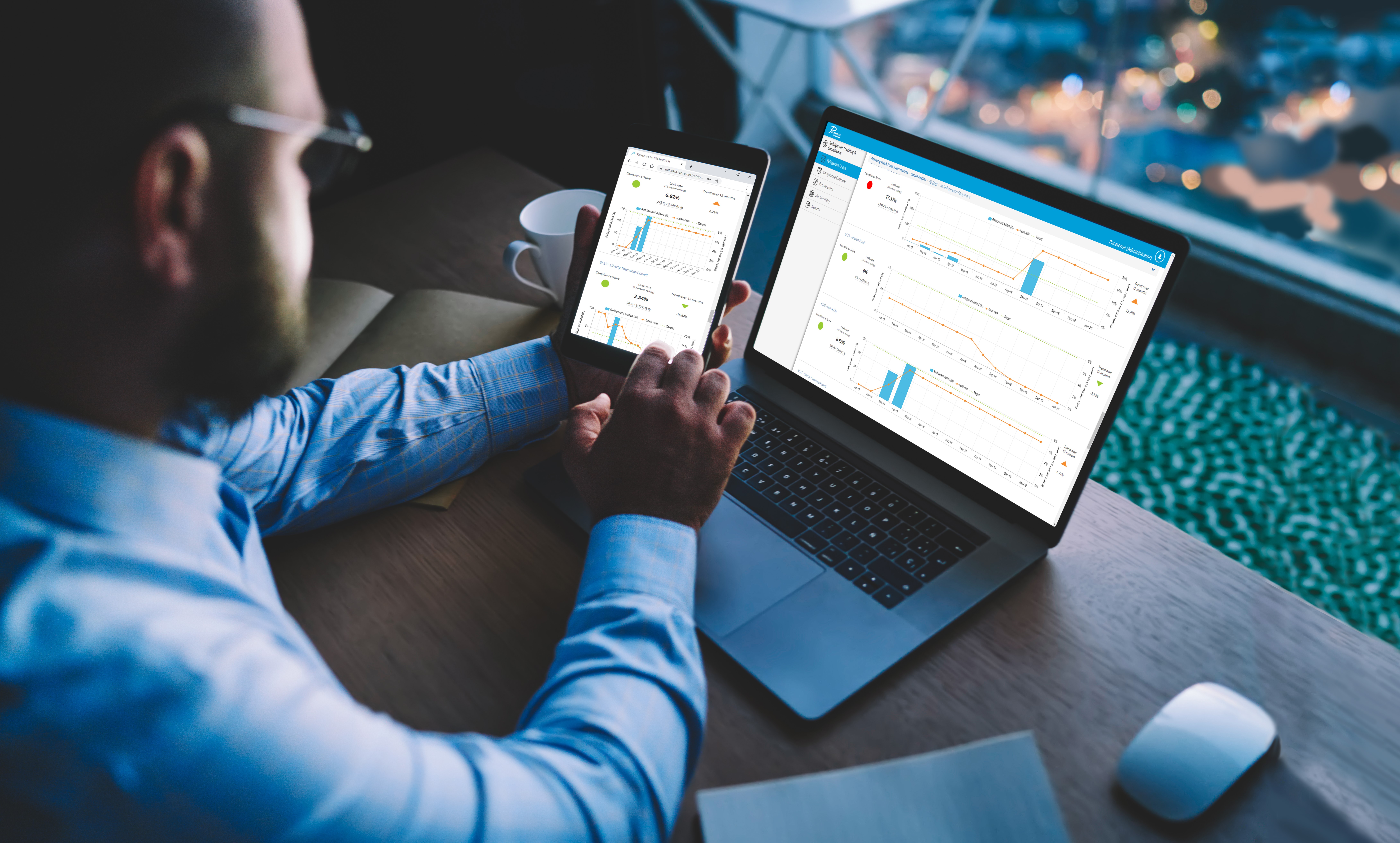 Selecting the best solution for your business or application may seem daunting but the expert team at Climalife in the UK, working in partnership with Bacharach, can advise you on leak detection solutions by providing tailored guidance on the location of equipment, type and number of sensors to use, setting you on the journey to achieving environmental excellence and saving money by stopping refrigerant leakage and maintaining optimum energy efficiency.