Energy Efficiency and Low GWP… as easy as 123 webinar
Climalife UK

On 3rd June, from 10am - 11am, Climalife (IDS Refrigeration) will hold the latest in a series of webinars. The latest webinar is being held for cooling installers, engineers and technicians based in the UK, in partnership with Refrigerant producer: Chemours, and Equipment Manufacturer: Emerson Commercial and Residential Solutions.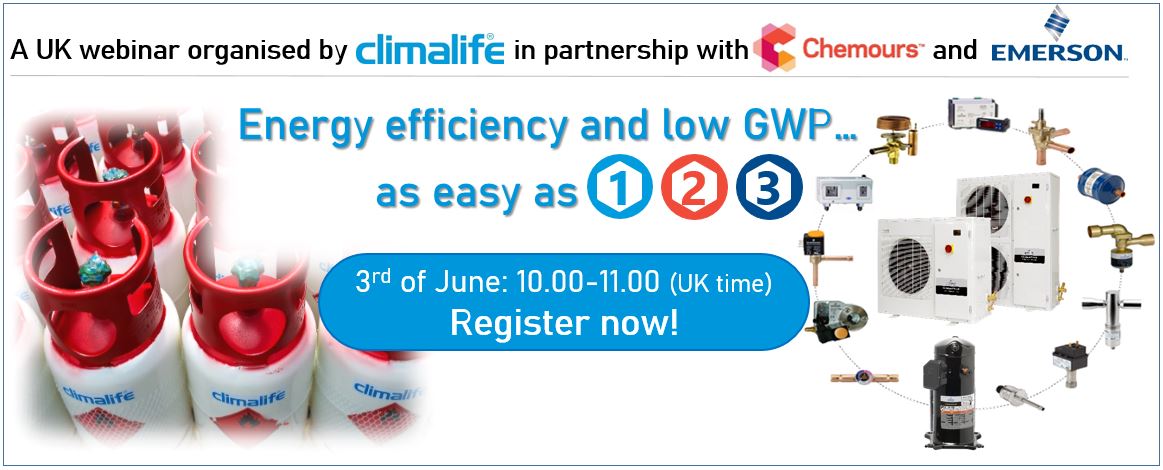 Speakers from Climalife UK, Chemours and Emerson have come together to present a collaborative and three-way perspective on the move towards using lower GWP refrigerant products and how this in turn can bring about greater energy efficient benefits.
Experienced refrigeration and air conditioning installers need not be reluctant to consider new refrigerants such as the very low GWP A2L classified refrigerants. With a wealth of experience behind them, the transition is easier than some might think, particularly with the support, new products and technologies that are on hand from experts at Climalife, Chemours and Emerson.
This free to attend and live webinar, aims to simplify the way forward, and give the market an opportunity to ask questions to a panel of industry experts. With well over 1000 registrations to the last Climalife webinar, this is set to be a well-attended event.