Climalife publish Good Practice Guide to A2Ls
Climalife UK

Under European legislation, very low-GWP fluids must be used for certain applications, both now and in the future.

In order to meet these requirements, producers have thought ahead and developed new HFO molecules that achieve a global warming potential of less than 1. In general, with lower GWP comes flammability.

A compromise therefore had to be found between flammability and GWP in order to meet professionals' needs as effectively as possible and provide solutions that are both environmentally acceptable and efficient. This is where the A2L refrigerants come in.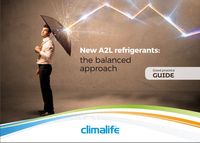 A new good practice guide to A2L refrigerants has been published, with lots of useful advice to support the adoption of these new fluids.

Visit our A2L product page.