CLEAN: Prevention is better than cure!
Climalife UK

Using the specialist Frionett® cleaning range in your cleaning and maintenance program is key to preventing unwanted breakdowns and maintaining equipment efficiency.
Since March 2020, like countries all around the world, the UK has been through numerous COVID lockdowns with many businesses being forced to close their premises. It would be understandable for building operators to think that as the HVAC systems haven't had a lot of use over the lockdown period, why do they need to be cleaned?
HVAC systems will always accumulate dust, debris and bacteria and under normal conditions should be cleaned once or twice per year, not just for health reasons but also to maintain the maximum reliability and efficiency of the system.
Preparing for a return to the office
With lockdown rules easing, the Climalife team are now getting ready to return to the office and Managing Director Allan Harper felt it was important to get the HVAC system checked and cleaned to ensure that when the team return to the office, everything is working at full capacity and peak efficiency. Climalife called upon the help of air conditioning installation specialists Mitchells, based in Gloucester. They state :
" When it comes to air conditioning units breaking down, prevention is always better than a cure as repairs can become costly when left and air conditioning units not working at their top efficiency can cost significantly more in energy bills."
The system
The Climalife HVAC system is a Midea split system consisting four wall mounted units, five under ceiling cassettes and eight under ceiling units across three floors of the building all connected to eight outdoor condensing units. These systems provide heating and cooling to the 20+ members of staff on site as well as maintain cooling for the IT server room.
The cleaning solution
Climalife offers a choice of specialist cleaning products for HVAC systems, including its Frionett® range, designed to optimise the performance of equipment. The team decided to test some of the newer products in the range.
Frionett® Evaporator RTU (ready to use) cleaner was used to clean the indoor units and Frionett® Condenser RTU cleaner was used to clean the outdoor condensing units.
Engineers in action - the cleaning process - indoor units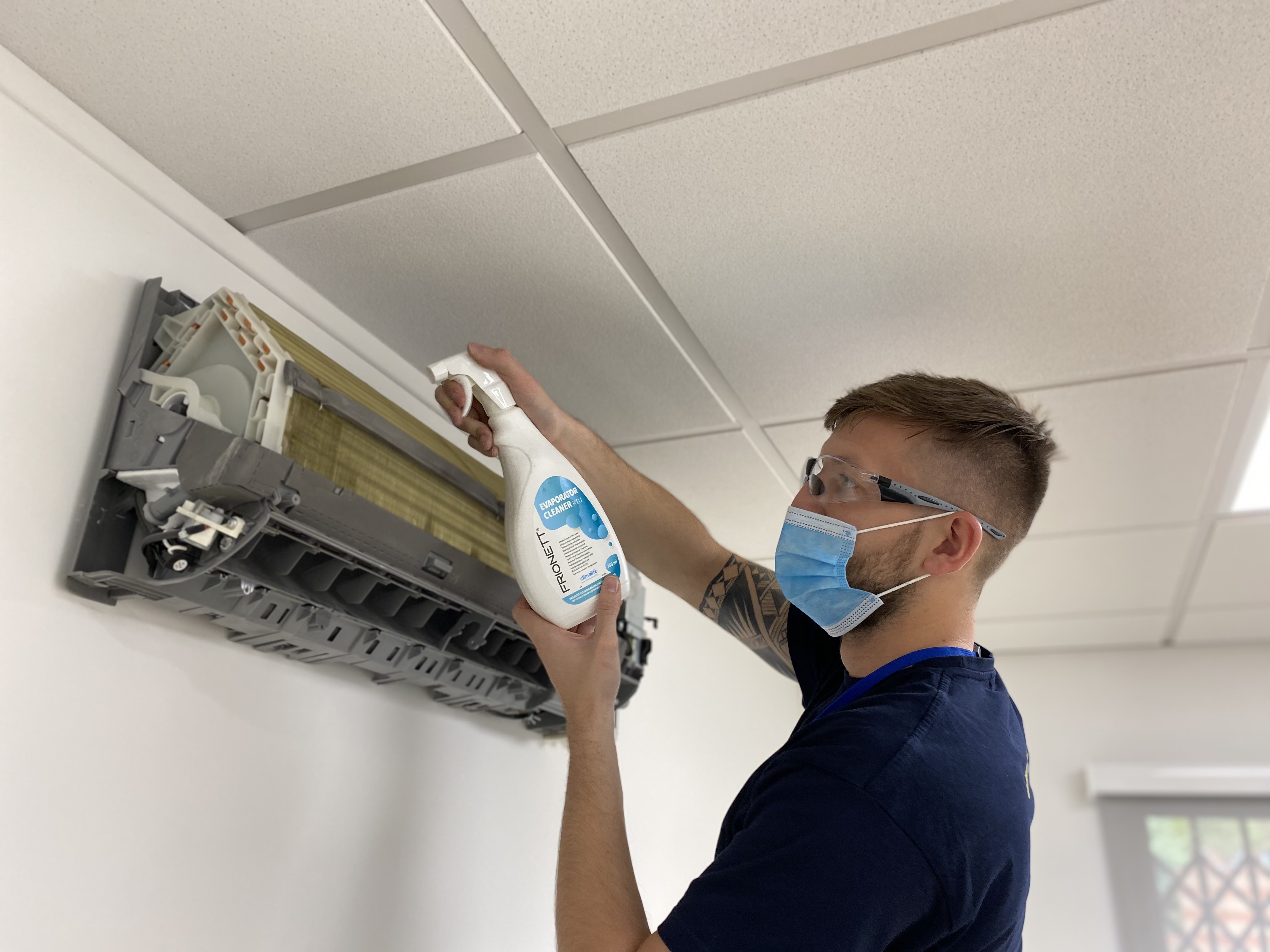 Jack Wells, Refrigeration engineer at Mitchells, cleaning the wall mounted unit with Frionett® Evaporator cleaner.
For each individual unit clean, the power was switched off and equipment fascia and filters were removed. Mitchells Refrigeration Engineer, Jack Wells sprayed Frionett® Evaporator Cleaner onto the coils and left the product on for five minutes. The product was then rinsed down with water and the unit re-assembled.
Whilst the system itself was not overly dirty to begin with, the visible difference was clear post clean.
For the ceiling cassette units, the electrics were disconnected, and all casing removed. The fan was taken out so that all elements could be cleaned thoroughly.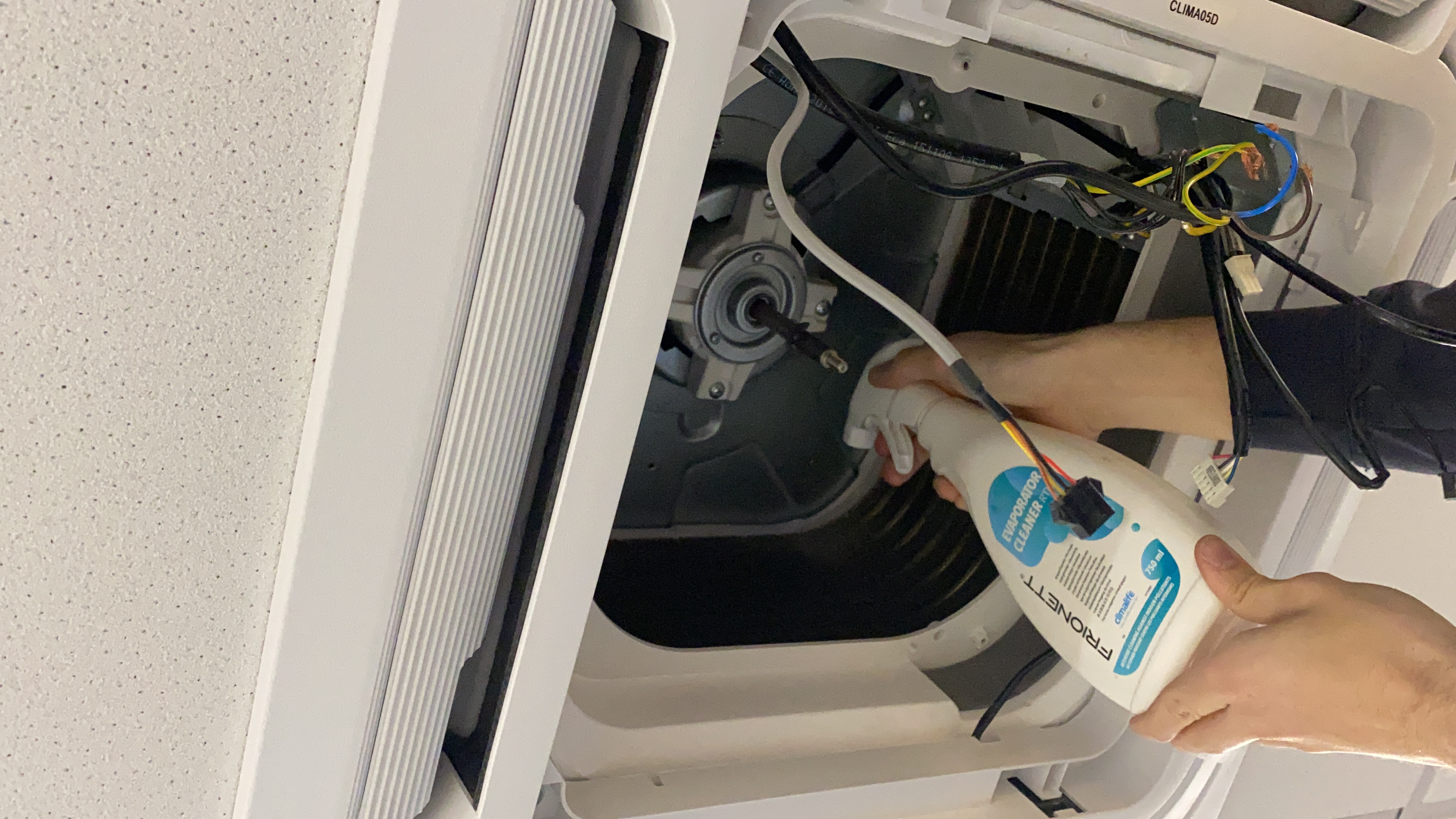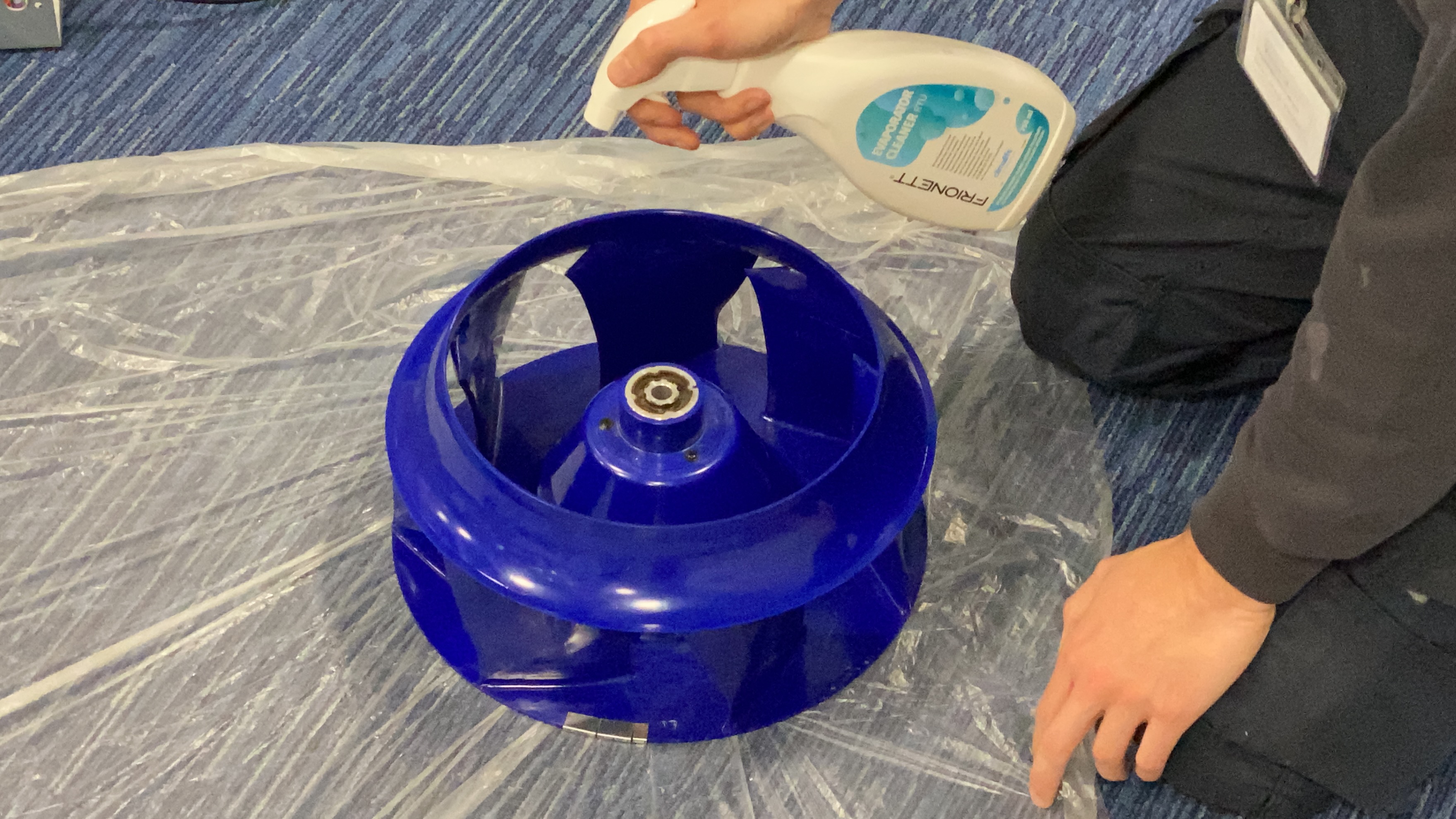 Cleaning the ceiling cassette unit with Frionett® Evaporator cleaner.
What made the process easier was that the Frionett® products could be used for all the different elements rather than individual products (eg a separate plastic cleaner).
After cleaning with Frionett® Evaporator Cleaner, Frionett® Activ' RTU* trigger spray was used to disinfect and deodorise the unit, leaving a clean and fresh scent. Formulated to eliminate bacteria and algae, Frionett® Activ' is the ideal product for the cleaning and maintenance of air conditioning and refrigeration equipment (fans, evaporators and indoor units etc).
* Bactericide: EN 1040, EN 1276, NF T72-300 (Salmonella typhimurium,Listeria monocytogènes), EN 13623 (Legionella pneumophila). Fungicide: EN1275 (Candida albicans)
Engineers in action - the cleaning process - outdoor units
When cleaning the outdoor condensing units, it was surprising just how dirty the units had become – particularly the unit that supports the IT server room which has had to continue to work hard throughout the lockdown period.
Outdoor units can be the target of a lot more dirt and debris, than an indoor unit – such as leaves, grass clipping, bird droppings and other outdoor contaminants.
The visual shows just some of the dirt that was removed from one of the Climalife units as part of the cleaning process.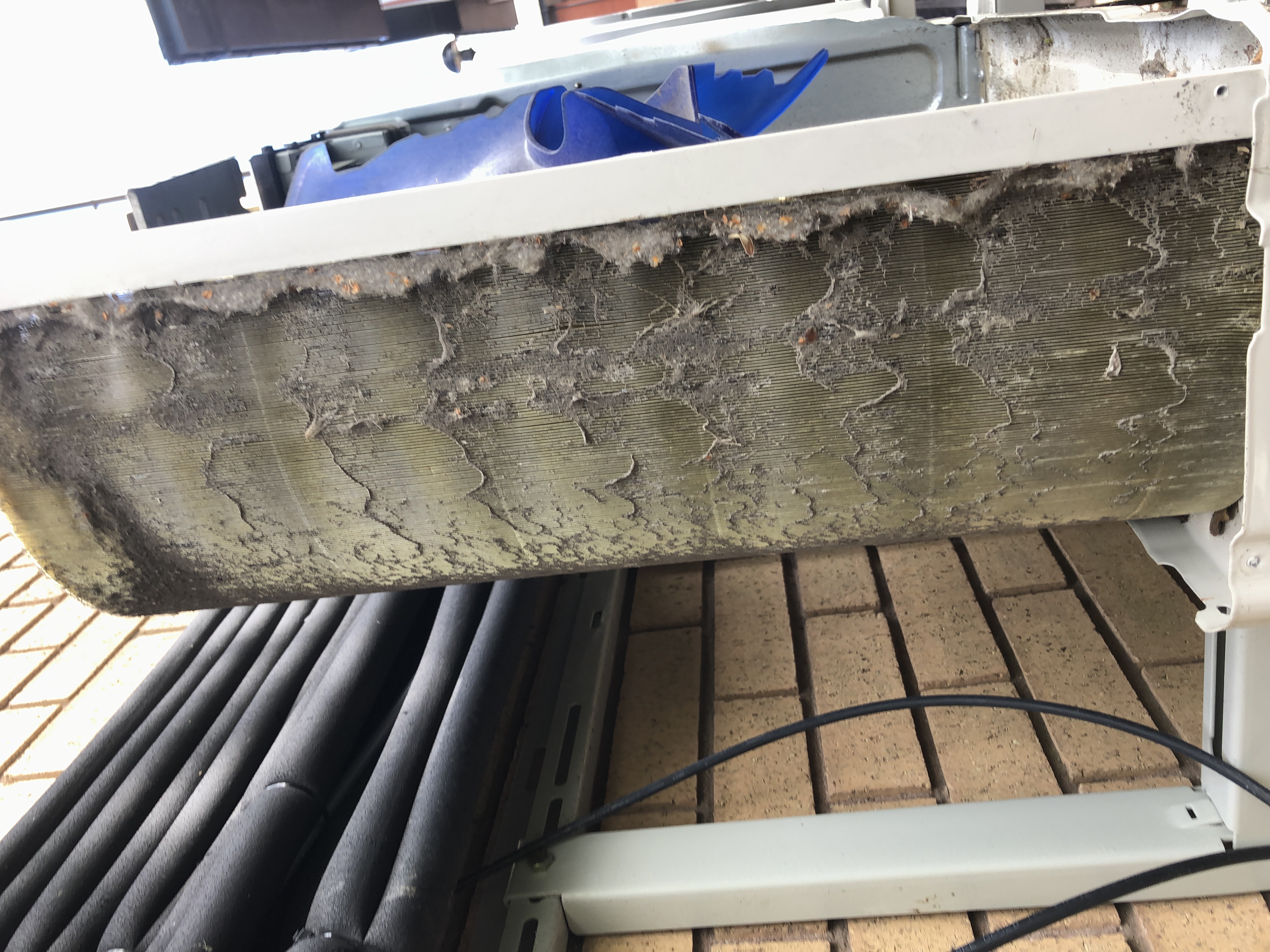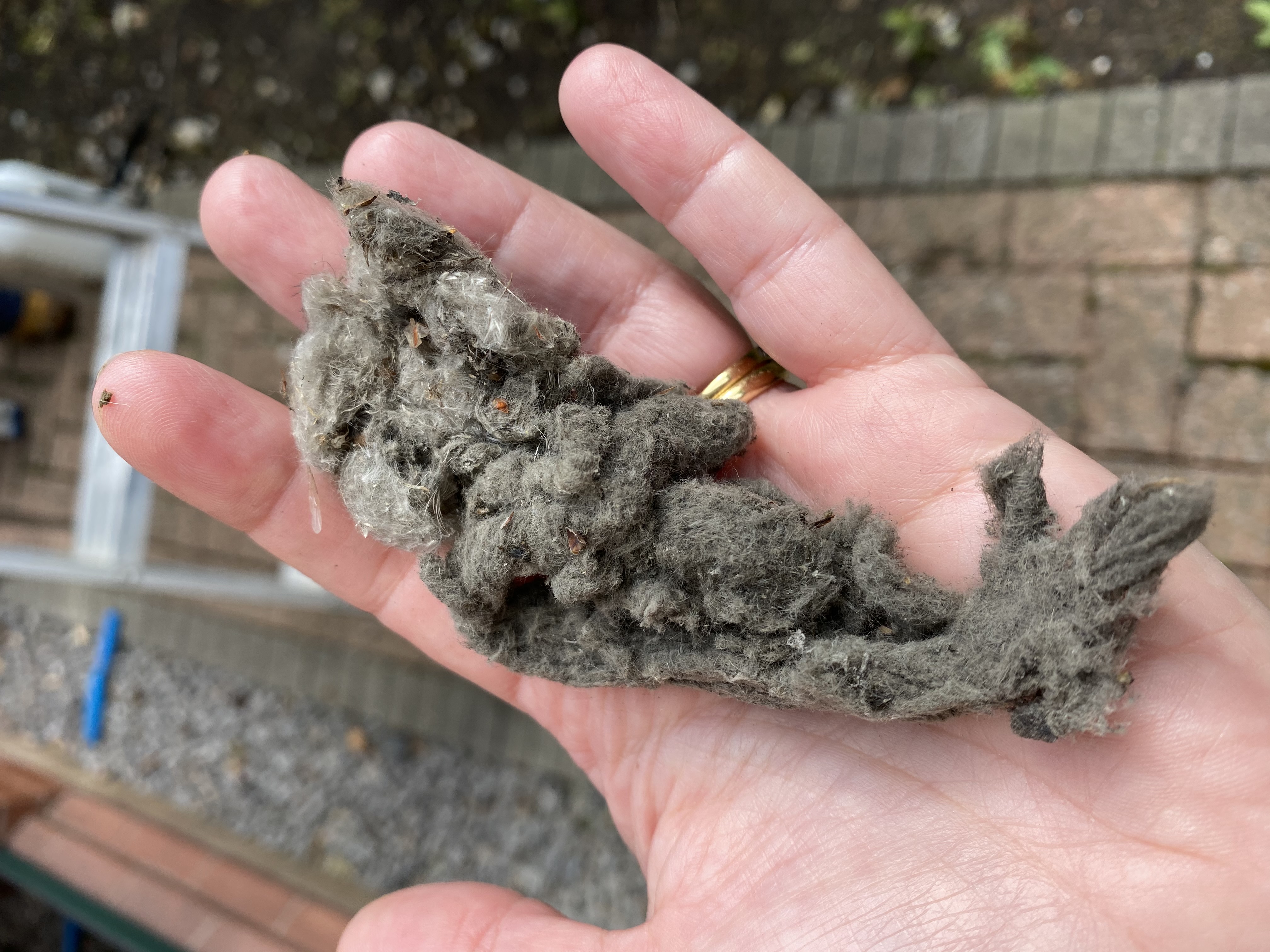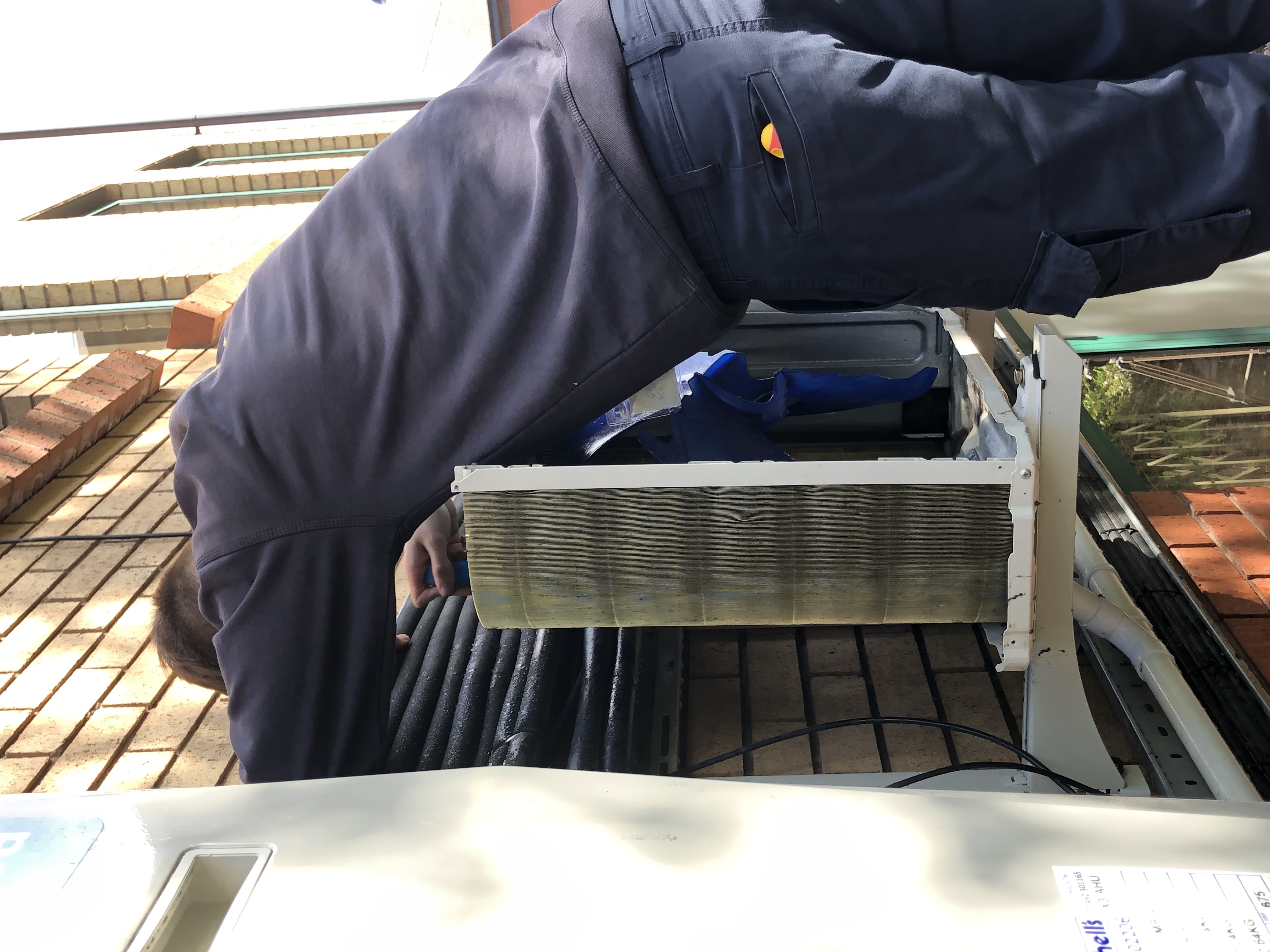 Before, during and after cleaning of the outdoor condenser.
After brushing out the most visible dirt, these units were sprayed with Frionett® RTU Condenser cleaner. The product was left for five minutes before flushing out with water. The process was quick and easy to do and the results speak for themselves.
It's easy to overlook the need to keep systems like these in optimum condition. For many, a measure of if the system is working or not is whether the air coming out is hot or cold, but the build-up of dirt and debris has a significant financial and environmental impact long before any temperature changes can be detected.
When is your next system clean scheduled ?
Feedback on the Frionett® products in use:
"The Frionett® RTU Evaporator and Condenser cleaners are very easy to use. I found them to be effective and they do not have an overwhelming smell which I have found with similar cleaning products on the market."

said the engineer.
Conclusion
Regional Sales Manager, Phil Ralph, commented :
" It's important to note that whilst our HVACR system wasn't hugely dirty, now was the right time to get it cleaned. You don't want to get to a point where a system is too dirty to perform effectively, so it is important to keep it clean to ensure performance is optimised and is running energy efficiently ".
As the old proverbial saying goes, prevention is better than cure – who wants an unexpected and costly repair bill were a system to suffer a break down? It is very important to have a regular cleaning and maintenance programme in place for all HVACR systems.
With workplaces getting back to their full capacity again, it is recommended that cleaning and maintenance checks are performed every six months.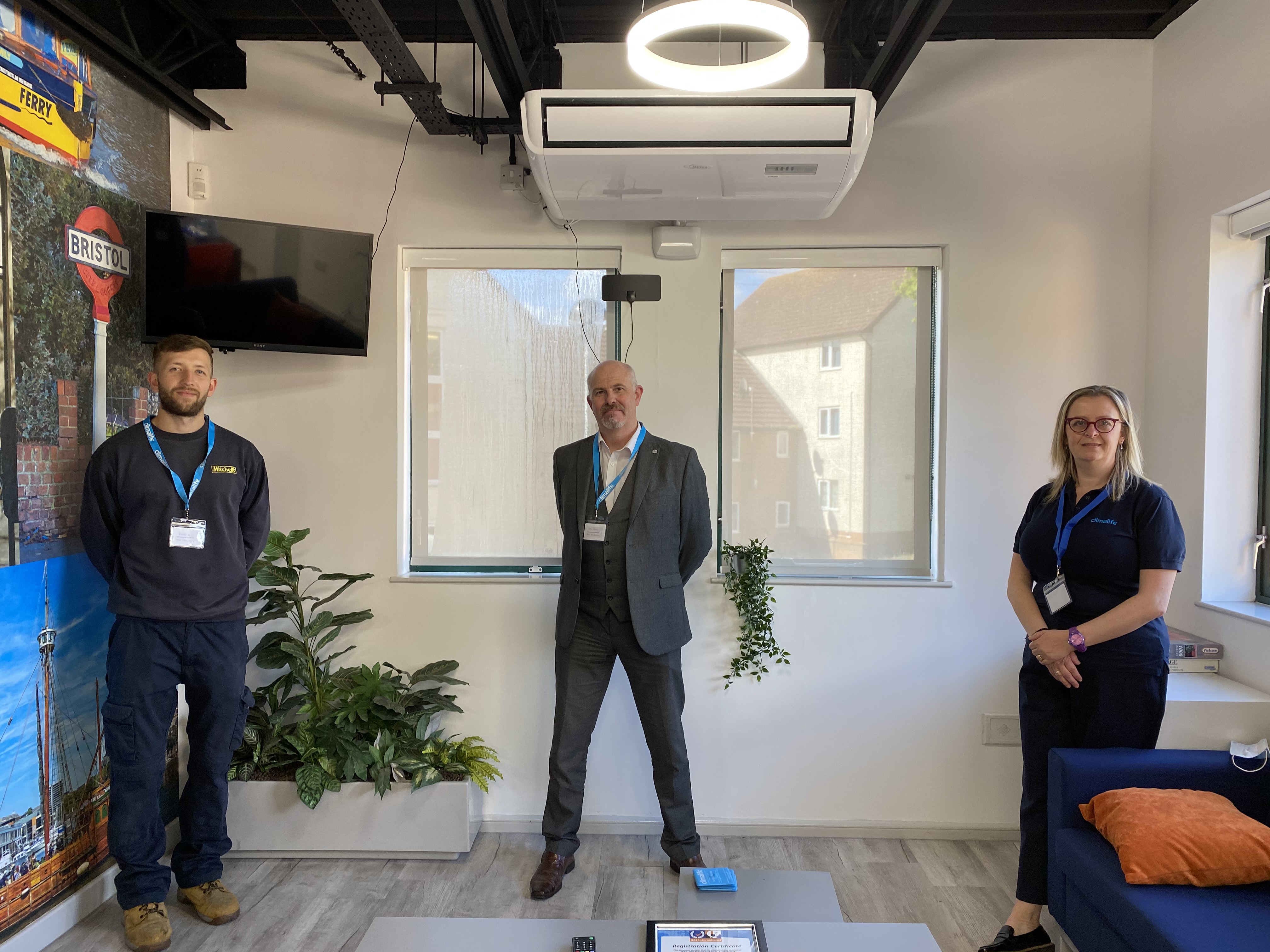 From left to right : Jack Wells, Refrigeration Engineer at Mitchells, Phil Ralph, Regional Sales Manager at Climalife and Mel Summers, Marketing Manager at Climalife.