Climalife UK sponsor Portishead Town Football Club U13 Girls
Climalife UK

Climalife, IDS Refrigeration Limited are very pleased to announce their sponsorship of local football team; Portishead Town FC Under 13 Girls. The team have been going from strength to strength over the last 5 years, sitting in Division A of the Bristol Girls FA League.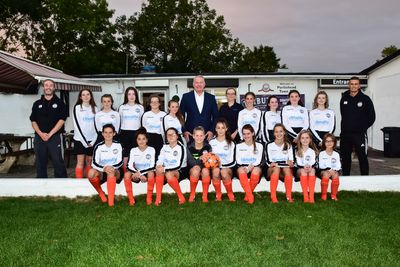 Image courtesy of One Day Photography

Climalife Managing Director, Allan Harper and Marketing Co-ordinator, Mel Summers presented the team with their new football kit at Portishead Football Club in front of an audience of supporters, before taking the time to join the girls for a team photograph. Allan said "We are really proud to be supporting local football and we hope the new kit will give the team added confidence as they head into the new season. We wish the girls lots of luck in their matches ahead."

Team Manager, Lee Hobson and Coach, David Bevan said "Along with each and every player, we would like to extend our utmost gratitude for the support and encouragement shown by Climalife as we head into the season with positivity and enthusiasm, proud to sport our new sponsors name on the wonderful new kit."