Refrigerant evolution in HVAC chillers
Climalife UK

Dave Richards, Climalife UK Head of Sales, discusses how the choice of refrigerant is changing in HVAC chillers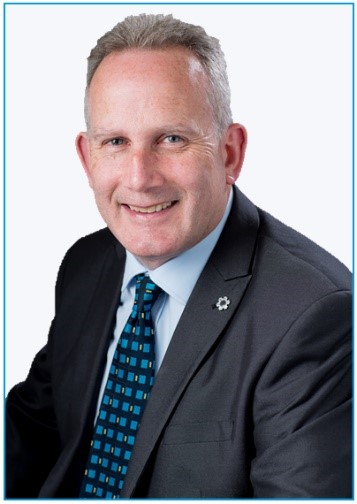 Chillers play a vital role in the Heating, Ventilation, Air Conditioning (HVAC) and Refrigeration industry. They have become an essential part of a whole range of commercial facilities such as offices, hotels, restaurants, hospitals and various manufacturing plants. Most commercial buildings nowadays, use HVAC systems as a means to cool and dehumidify the building and similar to other areas of the industry, there is a growing need for these systems to be both efficient and sustainable.
There are many different types of chiller, however in terms of refrigerant they can be split into three types based on the pressure of the refrigerant. As always legislation is driving and influencing the choice of refrigerant. The F-Gas legislation in Europe has not implemented any bans for chiller applications as they have not used refrigerant with a GWP>2500, but the quota phase down steps will have a profound effect on the choice of refrigerant used in new chillers in the next few years. With the next phase down step in 2021 and a further one in 2024, chiller manufacturers are already moving to lower GWP refrigerants. In the US it still remains likely that the use of 134a, 407C and 410A will be prohibited in new chillers from 2025.

Low Pressure Refrigerant Chillers
Historically these originally used R-11 which was replaced by R-123, but HCFC legislation in Europe meant this type of chiller declined in use, although R245fa was used in some equipment. More recently these have started to make a comeback with the use of R-1233zd, a single component low pressure refrigerant which is non-flammable and has a GWP below 1. It has a higher capacity than R-123 and similar efficiency.
Medium Pressure Chillers
This sector has been dominated by R-134a since it was introduced back in the early 1990's as a replacement for the CFC R-12. R-134a has been used extensively in chiller applications, mainly in larger end of the chiller market with equipment manufacturers still offering a range of equipment with R-134a as the primary option.
Whilst R-134a has a GWP of 1430 and isn't subject to any current bans in the EU, It has been one of the easiest refrigerants to come up with lower GWP alternatives. Many of the leading manufacturers of chillers produce a range of air cooled, water cooled and remote condenser chillers that have a wide range of cooling capacities from 20kW up to 2MW most now have options designed for use with the refrigerants mentioned below.
R-513A has a GWP around half that of R-134a, is non-flammable and has been quickly adopted by a number of manufacturers and can easily be used for retrofitting R-134a systems, with very similar cooling capacity and performance. The GWP effectively means that twice as much R-513A becomes available compared to R-134a in terms of quota.
R-1234ze is a single component HFO with a GWP less than 1 making it a very viable long term refrigerant. It has been available since 2012 and has been used in chiller applications where 134a may have been used. Whilst this refrigerant is non-flammable below 30°C. it is still classed as an A2L under Ashrae classification.
R-515B is new to the market in 2020, it can be best described as a non-flammable version of R-1234ze with almost identical performance characteristics. It has a GWP of 293 and is for use in new equipment. It is not a retrofit option for R-134a as the capacity difference is too great for most applications.
R-1234yf is already in widespread use in the automotive sector and is another single component HFO with a GWP less than 1. Some chiller options are available for use with R-1234yf which in terms of performance is very close to R-134a. It is an A2L lower flammable classified refrigerant which can be considered a long-term viable refrigerant.
Neither R-1234ze and R-1234yf come under the F-gas quota system meaning they provide a solution to the shrinking quota in the years ahead.
High Pressure Chillers
Over the last 15 years the use of R-410A in chillers has grown significantly, however with a GWP of 2088, it is not sustainable in new equipment as the F-Gas phase down steps impact. The leading contenders are currently R-454B, R-452B and R-32, all of which are A2L classified refrigerants. Although some are looking at the options of the medium pressure refrigerants mentioned above.
R-454B with a GWP of 466 appears to be currently leading the way with a number of manufacturers as it is a close match to R-410A in terms of operating performance and properties and has the lowest GWP of the three. We are seeing an increasing number of chiller manufacturers making this option available to the market.
R-452B with a GWP of 698 although a closer match to R-410A is not seen as a long-term solution when compared to R454B because of its GWP. Some equipment is available with R-452B.
R-32 with a GWP of 675 has seen rapid growth as a replacement for R-410A in split AC systems and we are now starting to see some chillers coming to market with R-32. The properties of R-32 has meant that more equipment re-design may be required by equipment manufacturers.
Other Refrigerants worthy of a mention are R-290, R-744, R-455A, R-454C, R-466A and R-470A, but there is little sign that any chiller equipment manufacturers are majoring on any of these at the moment.
The uptake of flammable refrigerant in some countries are affected by building regulations, but chillers are often roof top mounted, making the use of the low GWP A2L refrigerants a little easier.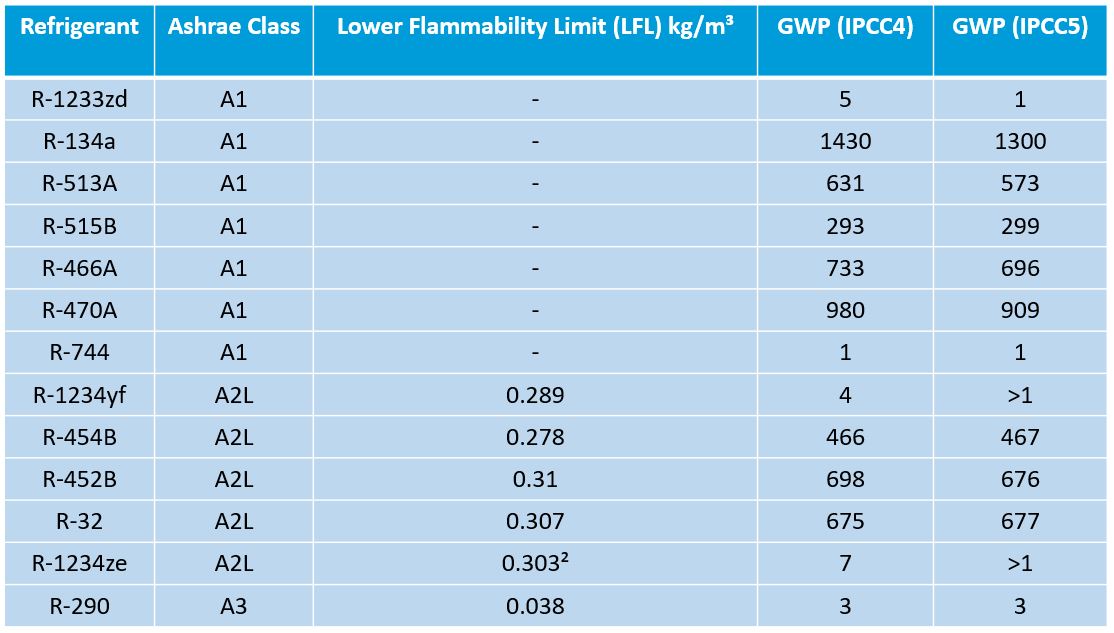 Looking to the future
Changing the refrigerant used in chillers is not always a quick process as it must meet a range of criteria, such as operating at the desired pressure and temperature, provide the correct levels of cooling and be more energy efficient than its predecessors. New chillers installed now need to be viable over their lifetime which can be 20-30 years. The chiller manufacturers are moving quickly in the right direction and have a number of low GWP options available to them to be able to meet the restrictions F-Gas legislation creates. There are many leading manufacturers that have released or are releasing equipment that is high performing, energy efficient and cost effective with the use of low GWP refrigerants These offers a long-term solution in order to future proof a buildings air conditioning system and to take steps towards tackling the pressing issue of climate change.